Aamir Siddiqi murder: 'Contract killings rare in UK' says criminologist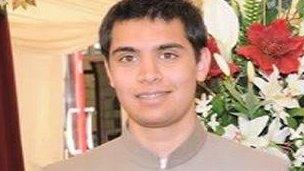 A criminologist has said contract killings like the one which left Cardiff teenager Aamir Siddiqi dead after the killers mistakenly targeted him are extremely unusual in the UK.
The two drug-fuelled hitmen showed "staggering incompetence" for going to the wrong house, their trial heard.
Aamir, 17, was stabbed to death in the hallway of his home by Jason Richards, 38, and Ben Hope, 39, in April 2010.
Less than 0.5% of all UK murders are done to order, the expert said.
Aamir Siddiqi had been expecting his imam for a Koran lesson when he opened the door on a Sunday afternoon to two masked men who howled as they launched a vicious and fatal attack on him with knives.
The teenager's parents rushed to his aid but were slashed at by the knifemen who then ran from the scene.
People walking past the house tried to help Aamir after pleas from his mother for help but he could not be saved.
During the trial, the jury heard that Aamir's killers had shown "staggering incompetence" in carrying out a contract killing on the wrong victim, at the wrong house.
Richards and Hope had been paid by a businessman, angry over a collapsed property deal, to kill a father-of-four who lived in a neighbouring street.
But they went instead to a similar looking redbrick, end-of-row house just around the corner in Ninian Road in the leafy suburb of Roath Park.
The prosecution called it a colossal, fatal mistake for Aamir.
After the murder, a huge manhunt began.
A jury found Richards and Hope guilty of murdering Aamir and the attempted murder of his parents.
Dr Fiona Brookman, a reader in criminology at the University of Glamorgan and deputy director of its Centre for Criminology , told BBC Wales less than 0.5% of recorded murders in the UK were contract killings, according to the available evidence.
"From available evidence we have, they are incredibly rare," she said.
"Having said that, our recording mechanisms for some of the more subtle aspects of homicide are not always completely accurate so it may be that there are more than we know about but I certainly don't think it is a huge unknown problem.
"There's some interesting research in Australia - just 2% of the cases of homicide in Australia (are contract killings).
"So obviously some of these will involve people who have much more sophisticated links to professional killers.
"Some of those are going to involve people who don't have those links and might in fact hire people who are not seasoned criminals and who might not be able to carry out the task efficiently," she added.