Council tax payers to pay more for North Wales Police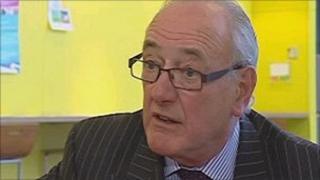 The north Wales police and crime commissioner has increased the force's funding from council tax by 3.98%.
The rise in the police precept means that Band D council tax payers will be charged an extra 17 pence per week.
In his first budget since his election last November, Winston Roddick said the increase would provide another 51 police officers.
The Police and Crime Panel approved the rise, and said the money should be ring-fenced for extra officers.
In a report presented to the panel on Monday, Mr Roddick explained the above-inflation increase by saying: "I want to ensure security in the home and safety in public places."
He said the extra officers would "enable greater options to focus on reducing crime through preventative measures and reducing harm to communities".
The additional posts increase the number of officers in north Wales from 1,417 to 1,468.
The rise means people in the North Wales force area are likely to continue paying more towards policing than any other area of England and Wales outside London.
The panel is required to approve the precept rise before bills can be sent out, and approved the move unanimously.
'Hold him to account'
One member, Labour councillor Chris Hughes, said: "We need to give the commissioner a chance.
"He's recently been elected on a manifesto of providing extra officers.
"We can hold him to account if he doesn't deliver."
Mr Roddick told the meeting he will make it a new priority to deal with rural crime, particularly thefts from farms.
He said afterwards: "There's a very real problem about rural crime, and we have cut back on the previous system of there being two dedicated officers responsible for policing rural crime.
"Those positions were got rid of because of the cutbacks, and that's been a constant source of concern to farmers.
"It's a big concern. They lose animals, diesel, quad bikes, gates and in one case, even a JCB."
The commissioner also said he has asked North Wales Police to establish a dedicated rape unit to improve policing of sexual assault and domestic violence incidents.
Monday's meeting in Conwy also saw Anna Humphreys appointed as chief executive to the office of the Police and Crime Commissioner at a salary of around £75,000.