Sir Watkin Williams-Wynn: Grand tour reveals passion for arts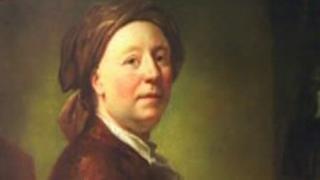 How one of 18th Century Wales' richest men became one of the greatest patrons of the arts is showcased in a new exhibition.
Sir Watkin Williams-Wynn of Wynnstay, Ruabon, left a legacy that remains to be seen in museums and galleries around the world.
The exhibition at Wrexham Museum retraces his nine-month grand tour through France and Italy.
The route was pieced together using the former MP's steward's account book.
A Holiday of a Lifetime: The Grand Tour, Art and Wales showcases some of the greatest Welsh paintings of the 18th Century.
It reveals the profound impact art and music had on him.
Like his father before him, he had a career in politics and became an MP in Shropshire between 1772 and 1774 then MP for Denbighshire from 1774 until his death in 1789. He was also Lord Lieutenant of Merionethshire from 1775 to 1789.
John Gammond, access and interpretation officer at Wrexham Museum, said the tour was like a "finishing school" for Sir Watkin.
He really enjoyed and appreciated the experience, whereas some, he said, saw it as an extended "stag weekend".
"He was inspired by the art he saw or by the buildings he visited, by the remains of ancient Rome and he was transformed by the experience," he said.
Aged just 18, he commissioned the leading architect at the time Robert Adam to design a house.
"But it was when he visited Genoa and he actually saw the kind of properties that merchants were living in and he thought, I am the richest man in Wales I need something better than a ramshackle of pile, and when he was in Rome he commissioned another architect to design, what is in effect, a palace of culture," Mr Gammond said.
David Anderson, director general of National Museum Wales said: "A Holiday of a Lifetime is a great example of sharing the treasures held in our national collections with communities around Wales, where they can help to tell new stories and attract new audiences.
"I am particularly pleased to see that the two pastels of Sir Watkin and Lady Charlotte are to be loaned for the first time ever for this exhibition and to a museum in north east Wales, along with the Ruabon church silver, which was commissioned by Sir Watkin. "