Cervical cancer: charities link up to raise awareness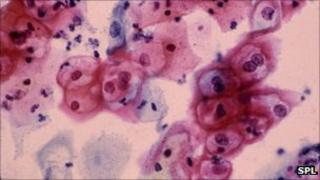 Charities are linking up to raise awareness of cervical cancer in Wales, where one in four women do not take up potentially life-saving screening.
This figure rises to 26.3% of women in Cardiff and the Vale of Glamorgan area.
A poll showed women are more likely to take action for a persistent cold than if they experience abnormal bleeding which is a key symptom of the disease.
Approximately three women in the UK die each day from cervical cancer.
Tenovus and Jo's Cervical Cancer Trust are using Cervical Cancer Prevention Week, from 20-26 January, to promote screening and get women to seek advice if they experience any symptoms of the disease.
"This month we'll be out on the road delivering our usual health check in the community with employees at T-mobile and students and staff at Cardiff University," said Maura Matthews, health and wellbeing manager at Tenovus.
"We'll be highlighting the importance of screening to women and young girls, as well as providing information and advice on what symptoms they should be looking out for, and who to speak to if they are worried."
Robert Music, director of Jo's Cervical Cancer Trust, said he was delighted to be working alongside Tenovus to reach the women who are not being screened regularly.
"Along with prevention, we are also concerned with women's awareness of the symptoms of the disease as early detection is key to improving survival rates and quality of life.
"Whilst early stage cervical cancer is often symptomless... we have found through women we have spoken to who experienced symptoms and went on to be diagnosed with the disease, many either delayed or ignored the warning signs."
This delay could result in more advanced stage of cancer, he said.
"In turn this may led to more invasive treatments, a poorer quality of life and ultimately a lower chance of survival," he added.