Lamb prices down due to bad weather, financial crisis, and feed costs.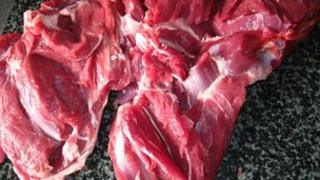 Weather, the financial crisis in the Euro zone and rising costs of feed are all being blamed for a fall in Welsh lamb prices.
Last week it was £1.36p per kilo - 65p lower than the same week last year.
Welsh lamb is also competing with cheaper lamb from countries such as New Zealand.
Red meat promotion agency Hybu Cig Cymru (HCC) said there is some hope however, as figures show sales of British lamb have risen.
HCC chairman Dai Davies said: "The major factors that have influenced the profitability of Welsh sheep enterprises this year are the weather, the financial crisis in the Euro zone and the rising costs of feed."
Last year was the third wettest in Wales and that too had an affect, he said, as it slowed the rate at which farmers could get their animals ready for market.
"This delay has meant that more domestic lamb is coming onto the market at the same time as cheaper lamb from other countries, such as New Zealand, traditionally comes into the UK," Mr Davies added.
"This competition on our supermarket shelves has meant the market value of lamb in the UK has dropped."
He added that potential new markets for Welsh lamb are being explored and there is some positive news for producers of Welsh lamb.
"The latest figures showed that sales of lamb in the UK have risen over the past year, so there is reason to remain optimistic for 2013," Mr Davies said.
"HCC will continue to promote Welsh lamb to our customers, both here in the UK and abroad, to ensure that its unique qualities remain at the forefront of consumer's minds."