Power supplies restored in Wales after snow caused faults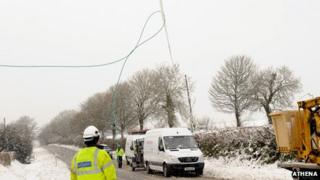 Engineers have worked through the night to restore power to households whose service was hit by the weather.
There were 10,000 around Wales affected at one stage on Friday across west, south and north Wales.
All but a very small number of customers in Gwynedd have now had their supplies fully reconnected.
The worst affected areas were Pembrokeshire and Carmarthenshire, but many parts of south east Wales were also hit.
Some of the problems were caused by excessive snow and water "sticking" to power cables causing the conductors to fail.
Western Power Distribution (WPD) said its engineers signed off at 06:30 GMT after working overnight to fix faults.
Road conditions had caused problems on Friday for engineers trying to reach some of the locations.
A WPD spokesperson had said while faults were being fixed new ones were coming in, but the company had increased staff numbers in anticipation of the bad weather.
Badly hit
Pembrokeshire was badly affected with areas hit including Crymych, Clarbeston, Milford Haven, Clynderwen, Goodwick, Fishguard, Newport, Narberth and Haverfordwest.
Even the county's crematorium was without power for a while.
Carmarthenshire was also badly hit while problems were reported in Cardiff, Swansea, the south Wales valleys, Bridgend and the Vale of Glamorgan.
A few hundred homes in north Wales were also left without power, said supplier Scottish Power.
Pockets of customers were affected mainly around Gwynedd, including the Llyn Peninsula.
Engineers had reported delays getting to some of the faults because of an accident on the A499 in the area.
Supplies are expected to be fully back to normal around mid-day on Saturday.