Western Power supplies cut by snow in south and west Wales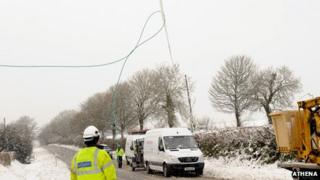 Engineers say they have restored power to 9,300 customers but the supply to another 800 remains cut off because of the weather.
Areas most affected are Pembrokeshire, Carmarthenshire and Swansea, with Bridgend, Cardiff, Vale of Glamorgan and the south Wales valleys hit too.
A few hundred homes have also been affected in north Wales.
Western Power Distribution says it hoped to get them all back on by the end of Friday.
Earlier, engineers had problems reaching some faults due to road conditions.
Phil Davies, of Western Power Distribution (WPD), said staff numbers were increased overnight in anticipation of the bad weather.
He said that while engineers were repairing faults, more were coming in.
"As we're repairing faults, more faults are coming in.
"We're sending staff in to west Wales from other areas to help out - but because of the traffic problems it is taking them longer.
"We're hoping for a break in weather - we will continue to work until everyone is back on supply."
Mr Davies explained there are about 45 high-voltage power faults across the area but, due to their locations, some were proving hard to reach due to the conditions.
"We have lots of 4x4 vehicles but even with 4x4 vehicles we're having a real problem getting to the faults," he said.
"We can't get there, the roads are treacherous."
'Sit tight'
Mr Davies said some of the problems have been caused by excessive snow and water "sticking" to power cables causing the conductors to fail.
He advised customers to sit tight and assured them that engineers were working as fast as possible.
"If you are in any difficulty ring our emergency line. We will provide as much help as we can," he said.
The emergency line number is 0800 052 0400.
Pembrokeshire council said 1,000 homes in the county remained without power - around half should be reconnected by 17:00 GMT and the rest by 23:00 GMT.
They are in Crymych, Clarbeston, Milford Haven, Clynderwen, Goodwick and Fishguard, Newport, Narberth and Haverfordwest.
However, a spokesman said power was back at the county's crematorium and full service has resumed.
The main Carmel radio transmitter serving Carmarthenshire also had power problems affecting 300,000 people, however it is now working again with reduced power.
Meanwhile, a few hundred homes are without power in north Wales.
Supplier Scottish Power said there are pockets of customers - mainly in Gwynedd and on the Llyn Peninsula affected.