Wrexham interest in Wales Rally GB move from Cardiff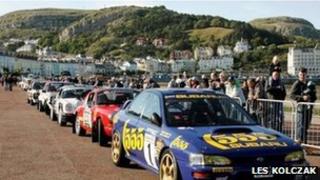 Speculation is mounting that the Wales Rally GB could move north from its base in Cardiff.
The event is said to be worth £2.7m annually to the capital's economy with race stages held mainly around mid and south Wales.
Now, bosses are in talks to "reinvent" the race, which may include moving its operations to a new location.
Organisers say they no decision has been taken as Wrexham council expresses an interest in attracting the race.
"It's no secret that we are looking at reinventing the whole thing which may or not mean moving the event to a different part of Wales," says Andrew Coe, Wales Rally GB chief executive.
The Wales Rally GB is held annually in November and is the British round of the FIA World Rally Championship (WRC).
It has been held in Wales for over a decade and race stages returned to north Wales last year for the first time since 1996, starting at Llandudno, Conwy, according to the WRC website which outlines the history of the race in Wales.
'Huge buzz'
Trade newspaper Motorsport News tips Wrexham as a favourite place to base the race.
Qatar M-Sport team principal Malcolm Wilson tell the newspaper's readers: "We never got the right atmosphere with Cardiff. We never seemed to get the right feeling - maybe it was too far away from the stages."
Wrexham council leader councillor Neil Rogers said: "Wrexham has a strong pedigree when it comes to hosting major sporting events and we would certainly be interested in adding Rally GB to that list.
"The competition created a huge buzz when it kicked off in Llandudno last year.
"It created real carnival atmosphere and the event succeeded in attracting thousands of spectators to the region.
"An event of this calibre will provide a boost for local businesses, especially hotels, restaurants and the tourism industry."
The Welsh government announced a partnership with Wales Rally GB in 2011 - investing £1.4m in the competition - saying it represented a good opportunity to showcase the nation's automotive industry.
Wales is said to employ 30,000 people in automotive manufacturing, retail and maintenance with an annual turn over of £3bn.
In a statement, Cardiff Council said it is in regular discussion with Wales Rally GB who have "confirmed to us that no decision has yet been made about this year's event".
"Cardiff has successfully hosted the Wales Rally GB since 1999 and it has become a pivotal part of the Welsh sporting calendar, bringing both significant prestige and investment to the country," it said.
"Cardiff has a justified reputation as a world class sporting destination and has staged an enviable number of world class sporting events such as FA Cup finals, Heineken Cup finals, Challenge Cup finals, Rugby World Cup matches, Olympic football matches and an Ashes test match."