Singer Bryn Fon of Eos criticises BBC's royalties row mediator offer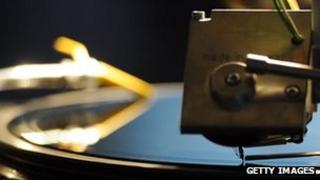 A leading member of Eos, the body representing Welsh language musicians in a royalties dispute with the BBC, has criticised the corporation's offer of a mediator.
The BBC said it would pay for independent arbitration but singer Bryn Fon says it is a "tick box exercise" to push Eos into an industrial tribunal.
However, Mr Fon said Eos would consult members on the proposal.
Eos says it wants a "fair price for Welsh music".
The dispute has led to Radio Cymru losing rights to about 30,000 songs.
The musicians broke away from the Performing Right Society (PRS) to join Eos, claiming they were being short-changed for their work.
Mr Fon told BBC Wales he was not keen on arbitration because he believes it is "a tick box exercise from the BBC to bounce us into... an industrial tribunal which they know we can't afford".
"We don't have the teams of lawyers standing by which they do," he said.
"It's something we're going to have to put to our members anyway because we don't have a mandate for that as a team.
"At the moment, we've got a mandate to go as far as a certain figure and then we have to go back to discuss [it] with our members.
"That could take a month, six weeks to get an emergency general meeting set up, and if the BBC are willing to wait that long and to see if Radio Cymru listeners will... suffer that long, then it's up to them."
Mr Fon was at the Welsh assembly on Wednesday to brief assembly members about the dispute.
Eos has said a settlement with the BBC would need to apply across the corporation, such as Radio 2 where Welsh language records are occasionally played, and on television programmes.
The BBC says it is obliged to ensure value for money for licence fee payers, and a fair and reasonable resolution is needed.
Investigate the dispute
BBC Wales said in a statement: "Our position remains that we absolutely agree with Eos that the solution must be fair and it must be found as soon as possible.
"That's why we'd urge Eos to respond to our offer of independent mediation quickly so that we can make progress."
The BBC Trust, which is independent of the corporation's management, has urged a settlement, saying it was in nobody's interest for the disagreement to continue.
Meanwhile, Plaid Cymru MP Hywel Williams has urged a UK government department to investigate the dispute.
Mr Williams has tabled an Early Day Motion in Parliament, claiming it raises questions about music industry "neo-monopolies".
BBC Cymru Wales said its agreements were "entirely appropriate".