Abergavenny dog walkers warned over nail-spiked sausages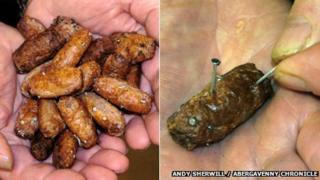 People are being urged to be vigilant after dozens of cooked cocktail sausages spiked with nails were found in an area popular with dog walkers.
Some 40 sausages were found in Llwynu Lane, Abergavenny, Monmouthshire, on 4 January. Each had eight or nine nails embedded in them.
It is understood dogs were being targeted and warnings have been sent to owners in the area from vets and neighbourhood watch teams.
Gwent Police urged people to be alert.
It said people should call 101 if they find any more of the spiked sausages or have information about them.