Wales NHS faces perfect storm says Dame Deirdre Hine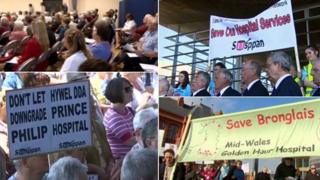 The NHS in Wales is facing a "perfect storm of challenges," says a former chief medical officer.
Speaking a day after controversial changes in NHS care across mid and west Wales were approved, Dame Deirdre Hine said closures and centralisation were "probably the inevitable way ahead".
An ageing population and the economic recession are among the difficulties faced, she told BBC Radio Wales.
She is chairing a conference on NHS policy in Cardiff on Wednesday.
The conference, held by the Institute of Welsh Affairs, comes after Hywel Dda Health Board approved plans to close minor injury units and centralise other services affecting patients in Carmarthenshire, Ceredigion and Pembrokeshire.
Dame Deirdre - chief medical officer to the Welsh Office from 1990 to 1997 - said she could not comment on Hywel Dda's changes because she had not examined the detail.
However, she said that closures of some units and centralisation of services were "probably the inevitable way ahead".
She added: "We have what amounts to a perfect storm of challenges to the NHS in Wales.
'Expensive kit'
"We have an ageing population - a good thing, we're keeping people alive longer. We also have in Wales a historically high burden of disease and disability.
"You then have to factor in the major advances in ability to treat that come with a requirement for expensive kit and highly-specialised expert teams of health professionals. And we have an economic recession."
Against that difficult backdrop, she said it was "not surprising that the health boards are making proposals for changes".
However, she said questions still need to be asked.
"Are the community services and the social services needed to support them up to the task of taking on 24-hour responsibility for frail, sick people?
"Is the ambulance service able to provide rapid transfer to centres at possible greater distance than people have currently to travel? Is this going to be more or less expensive?"
Following Hwyel Dda's decision, the Betsi Cadwaladr University Health Board will decide on its controversial plans for change on Friday.