BBC Radio Cymru royalties row: Hywel Williams MP wants inquiry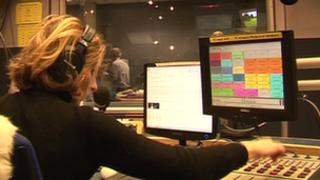 An MP has urged a UK government department to investigate the dispute between the BBC and Welsh language musicians over their royalties.
Artists want more money for their music and the row led to Radio Cymru losing the rights to about 30,000 songs.
Plaid Cymru's Hywel Williams has tabled an Early Day Motion in Parliament, claiming the dispute raises questions about music industry "neo-monopolies".
BBC Cymru Wales said its agreements were "entirely appropriate".
The musicians broke away from the Performing Right Society (PRS) to join the new agency Eos, claiming they were being short-changed for their work.
The BBC maintains that it has an obligation to ensure value for money for licence fee payers, and a fair and reasonable resolution was needed.
Negotiations between the two parties have so far not brought an agreement.
Eos is currently considering an offer by the BBC to appoint an independent mediator.
In his Early Day Motion (EDM), Mr Williams, who represents Arfon, says "the relationship between the BBC and the PRS raises questions about neo-monopolies in the music industry", and calls for an investigation.
'Fair and efficient'
BBC Cymru Wales said: "We are confident that our existing agreements with a number of collecting societies are entirely appropriate.
"Successive reports commissioned by the UK government have all agreed that fair and efficient collective licensing is a critical component of the "digital economy".
"It ensures copyright licences can be easily obtained - while creators get paid and consumers get access to efficiently licensed content."
The PRS declined to comment on the EDM.