WJEC says Leighton Andrews could damage Wales exam system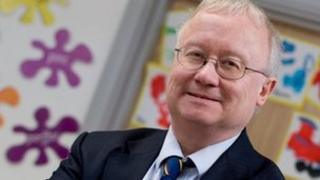 The body which sets most of the exams sat by Welsh teenagers has criticised the way Education Minister Leighton Andrews is changing the system.
The WJEC exam board says the Welsh government could do "immense damage" to the way qualifications are overseen.
The future of the WJEC has been in doubt since a recent review proposed changing the way exams are regulated and awarded.
But a Welsh government spokesman accused the WJEC of being in denial.
Before Christmas, Mr Andrews announced that a new body called Qualifications Wales would be set up to independently regulate exams. He also wants it to award qualifications.
He has said a similar model of running qualifications worked well in Scotland.
But in a letter seen by BBC Wales, WJEC chief executive Gareth Pierce raises concern about the Welsh government's timetable for reform, saying "there is potential to do immense damage by getting this wrong".
Mr Andrews came under fire last summer when he ordered the WJEC board, which sets most of the GCSEs taken by Welsh pupils, to re-grade English language exams after the results were published.
He said grade boundaries were set in a way that was unfair to candidates in Wales and they had been the victims of an "injustice".
Nearly 2,400 pupils in Wales received better results after the review.
'Strengthen regulation first'
His decision marked a break with England where ministers refused to intervene and began a row between the Welsh and UK governments.
The creation of Qualifications Wales, which would take over the minister's role as the exams regulator, was recommended by a review.
The new organisation would also award qualifications - something Mr Andrews wants it to start doing in September 2015.
However in his letter, Mr Pierce says there is an urgent need to strengthen regulation first. The new regulatory arrangements should in place as early as possible, he adds.
He proposes a 12-month timetable to set up Qualifications Wales as a regulator, but warns that the additional work required to turn it into an exam awarding body - the job currently done by the WJEC - poses a "very different set of issues".
"Unfortunately, the statements and documents that have emerged from Welsh government this week provide little assurance that addressing the regulatory model is being recognised as an urgent priority in its own right," he says.
A system that gives Qualifications Wales regulatory and awarding powers cannot be in place until late 2015 "at best", he says, "and even then it might not be the optimal model".
The minister's spokesman said: "Sadly the WJEC appears to be in denial. Qualifications Wales will be established on the model of the Scottish Qualifications Authority.
"Either the WJEC plays a constructive role in these discussions, or the government may have to take another course of action."
Mr Andrews said on Twitter that it was "right to ask [the] WJEC if they were in denial," adding: "Qualifications Wales WILL both regulate and award".