Dr Tom Parry Jones: Breathalyser inventor dies, aged 77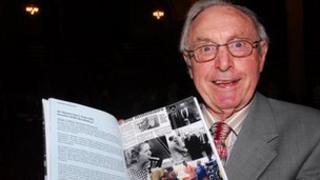 The inventor of the electronic breathalyser which has been used to catch drink-drivers around the world has died, aged 77.
Bangor University said Dr Tom Parry Jones, of Menai Bridge, Anglesey, had a worldwide reputation.
He set up Dr Tom Parry Jones Fund to encourage young people into careers in science and technology, and it is used to stage the Bangor Science Festival.
It was set up by former students of the university and the inventor.
The festival promotes science and promote entrepreneurship in young people.
Dr Parry Jones also established Lion Laboratories to manufacture and market the breathalyser worldwide, and was awarded an OBE for his work.
Speaking to the BBC in 2003 Dr Jones said: "I found inventing the device the easy part but producing it, developing it, and selling it was the challenge".
A Bangor University spokesperson said: "Bangor University has lost one of its most distinguished and cherished alumni."
"Tom was always keen to inspire new generations of students to get involved in science and technology."
He made the donation to establish the Dr Tom Parry Jones Endowment Fund 10 years ago with the aim of promoting science and engineering entrepreneurship in young people.
"This fund has supported a range of activities benefitting school pupils from across north Wales, ranging from the Dr Tom Parry Jones Entrepreneurship Day to the annual Bangor Science Festival, which will be held for the third time this March."
'Support'
The university said Dr Parry Jones "enjoyed working with budding scientists at all levels, demonstrated by his enthusiasm for meeting pupils during the Bangor Science Festival's Eco-science Day".
"He was also passionate about giving both pupils and their teachers the opportunity to meet work-class scientists and entrepreneurs."
"During his long affiliation with Bangor University, Tom also supported chemistry students with their studies, through his company PPM Technology.
"His worldwide reputation and genuine enthusiasm for developing Wales' future economy - through ensuring that young people are well supported in developing their scientific knowledge and entrepreneurial skills - made him a treasured alumnus of Bangor University," the spokesperson added.
Dr Parry Jones leaves a wife, Raj, a son Gareth and two daughters, Diane and Sara, and his mother, Grace Jones.
A service open to all will be held at Capel Mawr, Menai Bridge, on Friday (14:00 GMT), followed by cremation for family only the following day at Bangor Crematorium.