A470: Conwy valley rocks on the road warning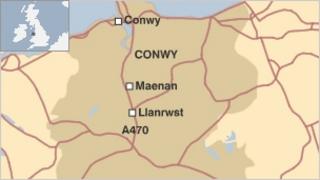 Police have warned motorists using the A470 in the Conwy Valley to be on their guard after large rocks were found in the middle of the road.
Between Wednesday and Sunday officers received four calls about the obstructions at Maenan, near Llanrwst.
On two other occasions rocks were removed by the council.
Police believe they were placed there deliberately and say the could have killed someone.
Sgt Aled Eynon said: "Some of the rocks removed have been the size of a small football and on one occasion forced a motorist to brake sharply resulting in slight damage to his own car.
"Fortunately nothing was coming the other way but if this type of mindless behaviour continues it will be just a matter of time until someone is injured or even worse.
"The consequences of this criminality could have been fatal."
Mr Eynon said the council highways department were placing their own warning signs on the road.
He added :"I am particularly keen to hear from anyone who knows of a man seen in the area at the relevant times wearing an orange fluorescent jacket who may well be the offender or a witness who can assist this investigation."
North Wales Police has asked anyone with information to call 101 or Crimestoppers anonymously on 0800 555 111 and quote RM13001114.