North Wales Fire Service want new retained firefighters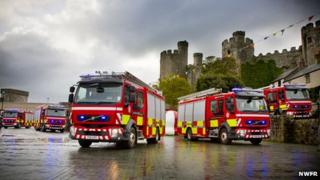 A search is under way for retained firefighters in north Wales, who are expected to travel to a fire station call-out within five minutes.
North Wales Fire and Rescue Service is holding a series of recruitment events at stations across the region.
The number of retained firefighters in Wales is at its lowest since the service was devolved in 2004.
Retained or on-call firefighters are relied on by many stations, especially in rural areas.
Open evenings are being held across north Wales until February.
Those who act on the retained duty system (RDS), can be called on at almost any time of day or night to respond to a 999 fire call. In return, they receive a retained salary and hourly call-out pay.
Assistant chief fire officer Ruth Simmons explained: "RDS firefighters provide essential fire and emergency cover for their fire station's area.
"We are looking for suitable individuals, in particular those available during the day, who can travel to their local fire station within five minutes of being paged for a call out.
"These people might be builders, shopkeepers, nurses, factory workers, housewives or homeworkers during working hours but we would ask that, in addition, retained firefighters are available to attend emergency incidents as and when required."
'Commitment and dedication'
Figures in November showed that Wales' three fire services - in the south, mid and west, and north - had 1,039 retained firefighters at the end of the last financial year. They reported 169 vacancies.
It led to the Fire Brigades Union to call for a review of how the retained system works, and the hours and pay of the firefighters.
In north Wales, RDS firefighters are paid about £2,800 a year when fully trained. They have to be available to provide cover for 120 hours a week and then receive an hourly rate and disturbance fee if they are called out.
In south Wales, however, retained staff receive a salary of £9,750 when fully trained to provide 84 hours of cover.
The North Wales Fire and Rescue Service said it was hoping to hear from both male and female applicants who demonstrate "common sense, commitment and dedication".
"North Wales Fire and Rescue Service provides close-knit, highly trained teams working with modern, hi-tech equipment. Recruits will also take part in the fire prevention work we carry out to prevent fires happening in our community," added Ms Simmons.