North Wales 'super' prison plan by UK government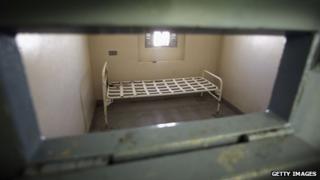 UK ministers say north Wales is being considered as a possible location for a so-called super prison, housing more than 2,000 inmates.
Officials are being asked to consider building the new large prison in north Wales, London or north-west England.
Plans for a prison in Caernarfon were dropped by the Ministry of Justice in 2009.
Justice Secretary Chris Grayling also announced plans for extra accommodation at HMP Parc Prison in Bridgend.
Making the announcement on Thursday, Mr Grayling said the proposals were aimed at driving down the costs of running prisons across Wales and England.
"At present, we have buildings within the prison estate which date back to the 18th Century," he said in a written statement.
"Prisons are not all located where we would want them to be to best meet the needs of the courts or support resettlement and there is an annual maintenance cost of approximately £184m.
"There is clear evidence that by replacing old uneconomic places with modern prison capacity we can drive substantial savings for the taxpayer and I am determined to do just that."
As part of the plans, six prisons in England would close, accounting for 2,600 inmate places.
Largest UK jail
In their place, the minister said he wanted to "significantly increase capacity" at four existing prisons, including the privately-run Parc Prison in Bridgend.
It will see a new block built at the site, and along with three other facilities in England, will add 1,260 new places for prisoners.
But the biggest announcement has been on plans for a new super-sized prison.
"The government is to start feasibility work on a new prison that could hold more than 2,000 prisoners - around a quarter more than the largest current facility," said Mr Grayling.
"We will consider the feasibility of sites in the north west, north Wales and in London in line with demand for places in these regions and I will provide further details to the House as this work progresses."
There has been a long-running campaign for a prison to be sited in north Wales, with a former brake factory in Caernarfon initially selected as a site in 2009.
However, those plans were then dropped, with the UK government stating the location was "not suitable".
Other sites have been put forward, including the former Anglesey Aluminium plant at Holyhead and the site of the Firestone rubber factory in Wrexham.
Welsh Secretary David Jones said he would press the case for building a prison in north Wales with his cabinet colleague the justice secretary.
The Clwyd West MP said: "A prison in north Wales would create economic opportunities and secure new jobs.
"I also know how important having a prison in north Wales would be to families and professional advisors of prisoners."