Nurses in Wales to give patients advice after drink injuries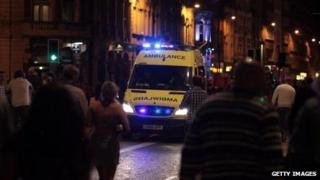 Nurses are being put on the front line of fighting the growing tide of binge drinking and alcohol related injuries and illnesses in Wales.
They are to counsel patients who return to hospital after a drink-related injury about the dangers.
Experts say trials have shown that one in four of the thousands who drink dangerous amounts of alcohol in Wales can be helped to cut back.
The all-Wales initiative will be launched in Cardiff later on Thursday.
"Every week in Wales, 1,200 hospital admissions are attributed to alcohol," said Health Minister Lesley Griffiths, who will launch the campaign at the Temple of Peace.
"We know the cost to the NHS in Wales and the cost to people's health is enormous."
The "Have a Word" campaign has been developed by Cardiff University with the Welsh government and Public Health Wales.
Trials carried out by the university's Violence Research Group, working with nurses who remove stitches following alcohol-related injury demonstrated that the patient conversations were highly effective.
Prof Jonathan Shepherd, director of the research group and professor of oral and maxillofacial surgery at the university's school of dentistry, said Wales was following a different path from England where dedicated alcohol workers were being appointed.
"It's important to state that this approach is a product of some vigorous trials which taken place in the last 12 years," he said.
'Structured conversation'
The trials have shown that about one in four or one in five people shift from hazardous levels of drinking to safer levels of drinking in the longer term, said the professor.
According to government guidelines, he said, safe drinking amounted to not more than 21 units of alcohol a week for a man, and 14 for a woman.
Prof Shepherd added: "A brief intervention is a structured conversation between the patients and the nurse, known to motivate the patient to change their drinking behaviour.
"The aims are to prompt the patient to recognise the harm which their drinking has caused, especially the wound being treated, to review their drinking; to set themselves drinking limits and to make and act on decisions to reduce their hazardous drinking."
About 1,600 health professionals in Wales have undergone a two-hour training programme ahead of the campaign, helping them establish these conversations with patients as routine, said the professor.
Quit smoking
Dr Sarah Jones, Consultant in Public Health Wales, added: "Alcohol misuse has been identified as the third most important risk factor for ill health in Europe after tobacco and high blood pressure.
"Drinking at these excessive levels contributes to a range of medical conditions including cancers, cardiovascular diseases, diabetes, gastro-intestinal diseases, neuropsychiatriac disorders as well as accidental injury and video."
Meanwhile, the first quit smoking advice and support service specifically for 11-25-year-olds will also be launched in Cardiff on Thursday.
About 14,500 11-15-year-olds start smoking in Wales every year.
Public health charity Action on Smoking and Health in Wales (Ash Wales) was awarded more than £850,000 from the Big Lottery Fund to develop the project, called The Filter.