Hoax bomber Lloyd Jones' seven-and-a-half years jail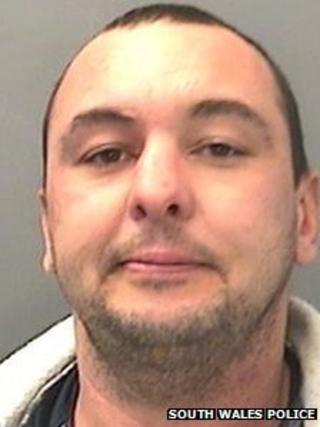 A gambling addict who carried out robberies across Wales and England using a fake bomb has been jailed for seven-and-a-half-years.
Lloyd Kieran Jones used unsophisticated disguises to try to hide his identity at betting shops and travel agencies, Cardiff Crown Court heard.
Jones, 32, from Glynneath, near Neath, carried a plastic bag full of wires and notes threatening to blow himself up.
He admitted six counts of robbery and two of attempted robbery.
Jones, who is unemployed, committed the thefts in eight counties while out of prison on licence for robbery.
In one robbery he wore a plaster over one of his eyes, and stole in total more than £7,000, but frittered the money away on drink, drugs and taxi fares.
Tony Trigg, prosecuting, said Jones deliberately targeted women at premises he viewed as "soft touches".
Mr Trigg said: "His method in each case was to use a plastic carrier which had wires protruding from it and giving his female victims a hand-written note saying that unless they gave him money he would detonate a bomb.
"They did not know the bomb was not real and genuinely feared for their lives. Some of the women had to receive counselling and are still traumatised by what happened."
On 21 September last year, he entered at the Ladbrokes betting shop in Nelson, Caerphilly, smelling of alcohol and wearing a waterproof plaster over his right eye.
'Joke glasses'
Jones handed a note to a cashier which read: "This is not a joke. There is a bomb in the bag. Keep calm."
But despite trying to hide his voice by using the note, he produced a mobile phone and told the cashier he would use it to detonate the bomb, before making off with about £400.
Four days later, he used almost identical tactics at the Thomas Cook travel agents in Whitchurch, Cardiff.
Wearing thick-rimmed "joke" glasses and a builder's hat he approached the foreign exchange desk and threatened to blow up himself and his female victim, before making off with £943 and a handful of Turkish lira.
On 28 September, Jones went to Thomson's travel agents in Riverside Quay, Haverfordwest.
Appearing heavily intoxicated, and wearing a pair of fake glasses, he handed a staff member a shoebox with wiring poking out the side and said he would detonate the bomb unless he was handed money.
Jones made off with £2,115 and got away in a taxi but cut short his ride to Carmarthen after a message over the cabbie's radio warned drivers to be on the lookout for an armed robber.
He carried out further raids at travel agents in Droitwich, Worcester, on 10 October, and five days later in Worle, Weston-super-Mare, followed by two failed further robberies in Lydney, Gloucestershire, and in Hereford.
On 25 October, Jones robbed a Thomson branch in Newtown, Powys. He was arrested in Chippenham, Wiltshire, on 30 October when police noticed a man with a bag full of wires acting suspiciously.
'Believed he was invisible'
He told officers on his arrest: "I was just handing myself in anyway."
Mr Trigg said the defendant targeted the Coral betting shop in Neath as well as a Ladbrokes in Port Talbot, making off with a total of more than £2,000.
He wrote to the Recorder of Cardiff, Judge Eleri Rees, and said he was "profoundly sorry".
David Rees, defending, said Jones, who believed he was "invisible" during the bomb plots, had long-standing addictions.
The judge said: "You had been looking for soft targets and we have heard how all your victims were female members of staff.
"Although there was no physical harm to them, some of the women have detailed how they struggled to cope with the aftermath of the robberies."