Charity shop rate relief: Petition opposes cut in Wales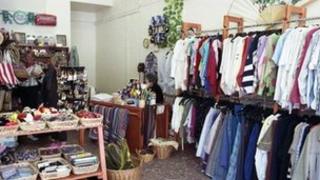 A campaign to halt plans to cut business rate relief for charity shops in Wales is stepping up a gear.
A petition with more than 22,600 signatures was handed in at the Welsh assembly on Wednesday.
The Charity Retail Association (CRA) claims a third of Wales' 500 stores may close if business rate relief is cut.
There is concern about the growth of the shops and the advantage they enjoy, but the Welsh government has said it is sensitive to the "many viewpoints".
A review of business rates proposed changing the rate from 80% to 50% and tightening eligibility criteria.
But Iestyn Davies, head for the Federation of Small Business in Wales, says he wants fairness on the high street, saying small businesses are also having a difficult time.
The review was carried out by Professor Brian Morgan, who reported his findings last June.
Warren Alexander, chief executive of the CRA, presented the petition on the steps of the Senedd in Cardiff Bay to William Powell, chair of the assembly Petitions Committee.
CRA head of policy Wendy Mitchell said it was hoped the committee would think it was worth referring the petition to the Welsh government for consideration, adding: "It should be, considering the number of signatures it has."
The CRA said if implemented the effect of the changes on charities and their beneficiaries would be "disastrous".
Wales has more than 500 charity shops and the association represents about 70% of them.
'Vital contribution'
The petition has been backed by charities such as Tenovus, Oxfam Cymru and British Red Cross.
"Our members feel if these proposals go ahead it will impact their fundraising, hospice care and research," Ms Mitchell said.
The petition said that charity shops made a vital contribution to raising income for good causes and 100% of their profits went to charity, raising more than £12m every year in Wales.
"Proposals which reduce business rate relief for charity shops in Wales will reduce this income, and will cause charity shops to close, leaving more empty shops on Welsh high streets and threatening 700 full time jobs and 9,000 volunteering opportunities offered by charity shops in Wales," it says.
Mr Davies from the FSB said: "It's not fair that they have an exemption.
"If we can share the pain and work together, that's the way forward."
The Welsh government said in November that Business Minister Edwina Hart was "sensitive to the many viewpoints on the issue of business rates relief for charities".
She had asked Prof Morgan and Juliet Luporini, from the business rates task and finish group, to seek the views of charities, business and others.
A spokesperson said they would also look at whether reliefs could meaningfully support social enterprises and credit unions.