Wales child abuse: Judge appeal to Waterhouse witnesses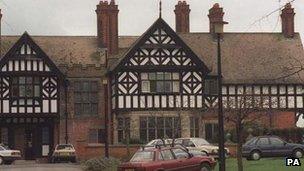 The judge leading a review of an inquiry into sexual abuse at care homes in north Wales has appealed for witnesses to come forward.
Mrs Justice Macur is reviewing the Waterhouse Inquiry, which focused on allegations at homes from 1974 onwards.
It has been claimed that the inquiry, conducted by Sir Ronald Waterhouse and published in 2000, did not investigate some allegations.
The claims prompted the launch of another investigation last year.
The Macur review is investigating the terms of the Waterhouse Inquiry, which began in 1996 and examined the abuse of victims in the former council areas of Gwynedd and Clwyd.
It followed a victim's claim that Sir Ronald Waterhouse only uncovered a fraction of the abuse.
The judge is looking at whether specific allegations were not investigated and has urged alleged victims and other interested parties to give further evidence.
She said: "To ensure I can thoroughly investigate allegations that the abuse of children in care in north Wales was not investigated in the course of the Waterhouse Inquiry I am seeking further views on the issues relating to this inquiry.
"We want to hear from as many individuals and interested parties as possible.
"This paper offers an opportunity for people and organisations to provide information or evidence that may help to provide some answers."
Running alongside her review is a separate investigation by the National Crime Agency (NCA) into the original police handling of the case and any other allegations made more recently.
Last month, the NCA said Operation Pallial had received information from 105 victims since November.
Senior officers said the operation had heard from new and previously-known victims, and offenders must be "investigated and brought to justice".
It involves 27 police officers and staff, primarily from forces in north-west England, supported by members of the Serious Organised Crime Agency (Soca).
It has heard from victims now living throughout the UK and Ireland in at least 22 force areas outside north Wales.
Related Internet Links
The BBC is not responsible for the content of external sites.