Anglesey anti-human trafficking summit's 'message of hope'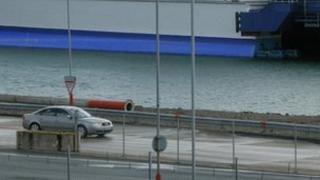 Human trafficking will not be tolerated, a Welsh government minister has pledged, as he sent a "message of hope" of rescue to victims.
The summit is being held in Anglesey, which experts say offers the opportunity for human trafficking.
There was also a warning that while it may be seen as an inner city problem rural areas also need to be alert.
Local Government Minister Carl Sargeant said it was important to let victims know they can be helped.
Also attending is Wales' anti-human trafficking co-ordinator, Stephen Chapman.
Fifty cases were recorded in Wales last year, but there are no reliable statistics.
The summit is being held in Anglesey to highlight the fact trafficking is not just a problem in inner cities.
"Together we are sending out a clear message that human trafficking in its many guises will not be tolerated in Anglesey or the rest of Wales," Mr Sargeant said.
"We are also sending out a message of hope to those that have been trafficked that we will seek, locate and rescue you then ensure that support is given to restore your life."
The summit, which is not open to the public, takes place on Tuesday afternoon.
Also attending will be representatives from the Serious Organised Crime Agency, Home Office, UK Border Agency, Gang Masters Licensing Authority, North Wales Police and victim support provider BAWSO.
Richard Parry Jones, Anglesey council's chief executive, said the authority wanted to create a community which is "healthy and safe".
"It is absolutely essential that we work with Welsh Government and the key UK agencies to make Anglesey as hostile as possible to the practice of human trafficking and I look forward to a productive discussion with officials during the summit," he said.