Babies' bronchiolitis puts pressure on Welsh hospitals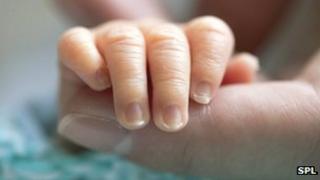 A leading paediatrician says hospitals in Wales are stretched to the limit by the number of babies admitted with a common respiratory infection.
Dr Iolo Doull, of the Royal College of Paediatrics and Child Health, said there has been a shortage of intensive care beds.
Bronchiolitis causes the air passages in babies' lungs to swell, causing breathing difficulties.
About 700 babies a year suffer bronchiolitis.
The infection is a common lower respiratory tract infection that affects babies and young children under one.
The early symptoms are similar to those of a common cold and include a runny nose and cough.
Dr Doull said: "The lead-up to Christmas was particularly bad and so all the hospitals in Wales would have been stretched with all the children coming in.
"The difficulty being a small proportion of those children may need to go to intensive care or may need to go into high dependency and certainly there's a shortage of intensive care beds in the south of Britain."
Rwth Baines said her son, Bobi, was struck down by the virus and has had a number of alarming episodes.
"He developed a cough and a wheeze and it was the wheeze that was the most scary, really, and that at its worst he had difficulty breathing so he was breathing really quickly.
"He had difficulty getting his breath - it was quite scary," she said.
It is difficult to prevent bronchiolitis, but doctors recommend good hygiene, keeping children away from others with colds and from people who smoke.