Police answer medical calls for unavailable ambulances say Conservatives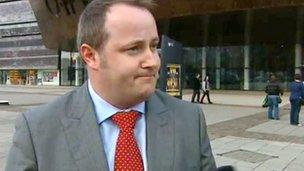 A woman in labour was taken to hospital by police when an ambulance was not available.
Other medical emergencies attended by the police included someone with diabetes and people having strokes.
The Welsh Conservatives obtained figures showing when three of Wales' four police forces were needed because ambulances were unavailable.
The ambulance service said it had a close working relationship with the police.
An information request by the Tories showed Gwent Police took people to hospital 81 times between November 2011 and October 2012.
They included someone who had a stroke, someone suffering from a diabetes-related illness and a drunk man who drank half a bottle of bleach.
South Wales Police were called to 30 medical emergencies between April and November last year and took 13 people to hospital.
One of them was a woman in labour who had started haemorrhaging.
An old man who collapsed in Port Talbot with a stroke was taken to hospital by his family after waiting for an ambulance for an hour and forty minutes.
North Wales Police responded to 11 medical emergencies between February and June in 2012 because ambulances were unavailable.
In one case an ambulance took an hour and 10 minutes to arrive for someone who had been kicked in the head.
Dyfed-Powys Police did not provide details.
Tory health spokesman Darren Millar AM said: "The unavailability of an ambulance in any medical emergency is worrying.
"Some of the cases revealed here are exceptionally serious and the use of police vehicles to transport patients is disturbing.
"Too many ambulances are spending too long stacked up outside our A and E departments instead of responding to emergency calls."
Health Minister Lesley Griffiths announced a review of the ambulance service last November following concern about its failure to meet targets on responding to emergency calls.
In the same month, 58% of ambulances on 999 calls arrived at the scene within eight minutes - the sixth month in a row that response times failed to reach a target of 65%.
Severe flooding in parts of Wales was blamed for poor performance.
Mrs Griffiths has promised a "comprehensive review" that will look at targets and the service's relationship with local health boards.
An ambulance services spokesman said: "The Welsh Ambulance Service (WAS) is working in partnership with police forces across Wales to reduce incidences where our emergency colleagues are awaiting an ambulance response.
"Both WAS and all four police forces are in frequent contact and are building on the close relationship in support of each other and their staff."
Related Internet Links
The BBC is not responsible for the content of external sites.