Nearly 30,000 families hit by child benefit changes in Wales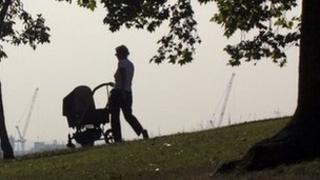 Cuts to child benefits for higher earners across the UK come into force on Monday, with about 28,000 families in Wales affected by the changes.
Families with one parent earning more than £50,000 lose part of their child benefit and it will be fully withdrawn where one parent earns above £60,000.
More than a million people are set to be affected in the UK and they could lose an average of £1,300 a year.
The UK government hopes to save £1.5bn a year to help reduce the deficit.
A constituency breakdown of areas most affected shows Cardiff North is hardest hit in Wales with 1,530 families facing the cuts, while the Rhondda is the least affected area with 130 families.
David Cameron described the move as "fundamentally fair" but Labour said it was a "huge assault" on families.
A million people
BBC Wales' economics correspondent Sarah Dickens said: "We've heard from government that it's the top 15% and we know we are a poorer nation so you might not think that really affects many people in Wales, but in fact a member of 21,000 households have had a letter from HMRC, and we know generally across the year 30% have not had a letter so broadly we can talk about 28,000 households in Wales will be affected roughly."
"Because of the nature of our economy some areas will be affected much more than others and there is a constituency breakdown of the areas that would be most affected."
Child benefit is paid at the rate of £20.30 a week for the first child, and then £13.40 a week for each child after that.
It lasts until each child reaches 16, or 18 if they are still in full-time education, and in some cases until they are 20.
More than a million people are set to be affected by the changes in the UK, with the Institute of Fiscal Studies estimating that they would lose an average of £1,300 a year.