TV chef Nerys Howell leads healthy food drive in Wales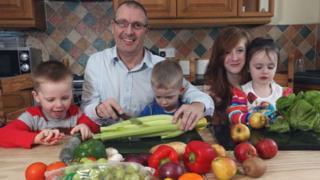 Families in Wales are being encouraged to switch to healthier food with the help of a TV chef.
A booklet with healthy recipes for some of the nation's favourite foods is being sent to thousands of homes as part of a Welsh government scheme.
Its launch on Monday will see S4C chef Nerys Howell cooking some of the dishes for a family-of-five from Pontypool.
More than half of adults in Wales are overweight or obese, according to the Welsh Health Survey.
Ms Howell, who is also a cookery writer, said: "It's all about making small changes rather than a complete change in your diet, and we shouldn't really call it a diet, it's a way of life really.
"It's small changes like reducing sugar, fat and salt, the big three that we overindulge in.
"It's full of easy small recipes such as casseroles, stir fries, soups - those sort of everyday meals."
Anyone signing up for the Change4Life campaign will receive the Food Smart booklet, which is initially being sent out to 40,000 homes.
The idea is to help families switch to healthier dishes that are simple, quick and cheap to make.
"I think all of us are looking for shortcuts, and quite often when we're short of time we will tend to go for the easiest option which is things like takeaways, ready meals and snacks," said Ms Howell.
"What we're talking about here is focusing on maybe switching some of those meals for slightly healthier options.
"If your are cooking those sort of meals at home you have total control about what goes in those meals, you can control the amount of oil or fat or salt or sugar you put in.
"When you buy ready meals you don't know unless you're reading labels carefully... what exactly you're eating."
Ms Howell will launch the booklet by helping the Betts family from Pontypool with some of the dishes from the booklet.
Steve Betts - who has a 14-year-old daughter, Briony, and four-year-old triplets, Ashley, Gracie and Ethan - said: "With five mouths to feed it can be costly, so I'm looking forward to having ideas for healthy, inexpensive meals to cook that the children will like.
"We've always been good at getting our five fruit and vegetables a day, but we definitely need to eat more fibre.
"We only usually eat white bread, pasta and rice, but the Food Smart booklet gives us great ideas for what we can do with wholemeal alternatives."
Health Minister Lesley Griffiths said: "Food Smart is here to help us all make good choices about what we put in our bodies each day and help prevent diseases like cancer, strokes, heart disease and type 2 diabetes.
"The recipes are all low in sugar, salt and fat and are a really easy way to get those important five a day''.
Seriously overweight
A prominent doctor who runs a weight management clinic in Ebbw Vale said last year that Wales' obesity "epidemic" was so bad that it lagged just behind world leader the USA and was getting worse.
The Royal College of Physicians has also said there were too few joined up services to help people lose weight in Wales and England.
It claims many NHS staff are seriously overweight and setting a bad example.
Besides Change4Life, the Welsh government is trying to find 1,000 NHS staff to lead by example with a Champions for Health scheme.
A recent study by Swansea University calculated that obesity was costing the NHS in Wales £73m each year.