Civil partnerships: Churches 'must prioritise civil unions'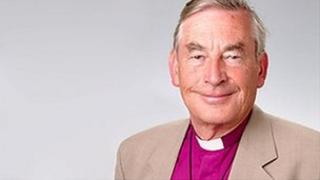 The former Bishop of Oxford says the Church in Wales and the Church of England should prioritise church blessings for civil partnerships.
Lord Harries of Pentregarth said the unions should be warmly welcomed and not through "gritted teeth".
Last month the Church of England let gay men in civil partnerships become bishops if they were celibate.
Lord Harries nominated Dr Jeffrey John - who is originally from Tonyrefail - for Bishop of Reading.
Dr John has been at the centre of the row over gay bishops, having twice been put forward for the role in the Church of England.
In 2003 he declined the position of Bishop of Reading in the face of protests from traditionalists.
He was also rejected as a candidate for the Bishop of Southwark in 2010, with evidence emerging it was because of his sexual orientation.
Speaking to BBC Radio Wales' Sunday Supplement programme: "I would regard this as an interim stage and I very much hope the church will warmly welcome civil partnerships, and by that I mean say that there will be every possibility of a proper liturgy of blessing in the church for them. That is what the church ought to be doing.
'Grudgingly'
"The Church of England now says that it welcomes civil partnerships - it's accepted them only slowly, grudgingly and between gritted teeth."
Speaking about nominating his friend Dr John for bishop, he said: "After initially accepting that nomination, the archbishop was put under from huge pressure from around the Anglican communion and eventually Jeffrey John felt, for the good of the church as a whole, he ought to step down and not accept the position, which was a terrible, terrible trauma for him and for all of us involved."
Lord Harries said he was "absolutely delighted" that Dr John and other people in his position will not now be barred from appointment to the episcopate.
He also admitted the vow of celibacy could not be "properly policed".
"But there has to be a measure of trust," he added.
"Jeffrey John has said that he was celibate, he had been for a considerable time and I think in the church you have to accept a certain amount of trust.
"After all, if you can't accept that trust is pretty fundamental in the church then where are we? The Christian faith is based on trust."
The Sunday Times has reported Dr John has been tipped for the position of Bishop of Durham, which is the position vacated by the new Archbishop of Canterbury, Justin Welby.