Homelessness in Wales to increase, says Shelter Cymru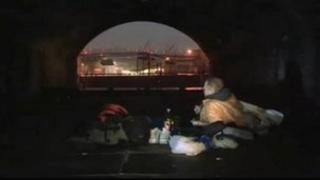 Over a quarter of people in Wales feel they are struggling to keep a roof over their heads, a housing charity says.
The director of Shelter Cymru said he expected homelessness to increase in 2013 as cuts to welfare took effect.
The charity is also concerned about the number of people using payday loans to meet rent or mortgage payments.
It was revealed last month the number of people in Wales claiming help from councils for homelessness had gone up for the second year running.
Shelter Cymru director John Puzey told BBC Radio Wales: "We're all standing by for an increase in homelessness.
"I think local authorities and their partner organisations... have done very well over the last couple of years holding back the tide of homelessness, working very hard to find people alternatives.
"But in the end, these alternatives will start running out, they are starting to run out, and with so many people facing these kind of difficulties, it's going to be a real challenge in the next couple of years."
Figures released by Shelter suggest 1.5 million people across the UK are falling behind with their rent or mortgage payments.
Some 26% of people in Wales surveyed described themselves as "constantly struggling".
The charity's figures also suggested that almost one million people in Britain turned to payday loans to help pay their rent or mortgage in 2012.
Mr Puzey said the figures were no surprise, adding: "Shelter Cymru has been tracking these trends in Wales over the past few years and these pretty much confirm the direction of travel that we've been seeing.
"More and more people struggling to pay their rent or mortgages, more and more being very anxious about their future in terms of keeping their homes, more and more people indeed cutting back on essentials such as food and heating.
Nowhere to live
"More and more people are using payday loans to pay off credit cards and essential bills."
He said several of the UK government's policies to reduce the welfare bill, such as further changes to housing and council tax benefits, would only take effect this year.
He urged anyone struggling to meet rent or mortgage payments to seek advice.
More than 19,000 people in Wales said they had nowhere to live, a rise of about 27% on the previous year, according to figures obtained by BBC Wales in December.
A Welsh government spokesperson said last month that the figures showed the number of households accepted as homeless by councils was down in the latest quarter compared to the same period in the previous year.
The Welsh government also said it announced extra funding last month to support projects to prevent homelessness, and was working hard with local authorities and partners such as Shelter Cymru to offset the rise in living costs.