Celtic Manor: Convention centre plan for hotel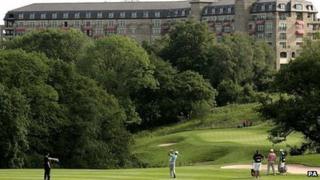 The five star Celtic Manor hotel near Newport is considering building a convention centre to host large international events.
The centre would be built on land next to the hotel if given the go-ahead.
The resort currently hosts conferences in one of its suites but wants to be able to accommodate more delegates.
The plans, in their early stages, come as Cardiff council and the Welsh government continue talks about plans for a convention centre in Cardiff.
The Celtic Manor, which is situated just off the M4, can currently accommodate 1,500 people for conferences and other large events in its Caernarfon Suite.
But after the success of the Ryder Cup golf tournament, which was held at the hotel in 2010, it is expanding its facilities.
The resort, owned by billionaire Sir Terry Matthews, announced a £160m expansion in June, with plans for ten luxury chalets and 40 apartments.
A spokesman said: "The Celtic Manor Resort has made no secret of its ambitions to build a new convention centre capable of hosting the largest conferences and international summits.
"This would undoubtedly be a huge asset to Wales but there are no more detailed plans to announce at this stage."
Hotel managers in south east Wales have been pushing for a convention centre for many years.
Plans were put forward in 2011 to build one in Cardiff as part of a proposed £160m business district in the centre of the Welsh capital, which would stretch south of the train station to Cardiff Bay.
The area would be part of the Welsh government's plan for an enterprise zone focused on financial services in the city.
As well as a large convention centre, it would also include 4m sq ft of office space and a revamped bus station.
But in May last year the new Labour-run authority said it was reviewing the plans, and discussions are still ongoing between the council and Welsh government.
Prof James Foreman-Peck of Cardiff Business School said he did not know whether there would be room for two large convention centres in the region.
He said that, without knowing all the details, he preferred the plans for a convention centre at the Celtic Manor.
"I have been to a couple of meetings at the Celtic Manor recently and it's a beautiful situation, looking out across the channel, it's up on a hill and it really makes Wales look good," said Prof Foreman-Peck, director of the school's Welsh Institute for Research in Economics and Development
"Whereas my experience of Cardiff is that it really has too many entertainment centres, so you get these bursts of extraordinary congestion.
"A convention centre would attract lots of people to Wales, international people, and you want them to go away with a good impression of Wales.
"A convention centre isn't so much about bringing jobs to an area, it is more about putting an area on the map."
A Cardiff council spokesman said it would not comment on the convention centre plans until the Welsh government announced its comprehensive enterprise zone proposals.
"The council remains committed to seeking an early solution to enable this development to succeed and remain in discussions with the Welsh government," they added.