Swansea Valley new bridge ends 14-year weight limit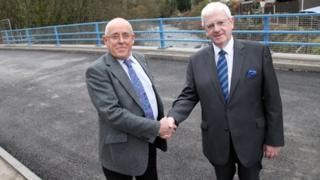 A weight restriction on a bridge in the Swansea Valley has been lifted 14 years after it was imposed.
A three tonne load limit was imposed on concrete-built Crown Bridge linking two villages on the border of Neath Port Talbot and Powys in 1999.
Vehicles faced a detour of almost ten miles to travel between Cwmtwrch and Pen Rhiwfawr on the counties' border.
A £725,000 project to demolish the bridge and rebuild it in steel was completed over the Christmas holidays.
The two local authorities have agreed to share the costs of building and maintaining the steel-beamed bridge and its reinforced concrete deck.
Work began in June and the bridge will be closed for one day in 2013 to finish resurfacing work.
Neath Port Talbot council leader Ali Thomas said: "Due to the nature of the work carried out there was unfortunately an inevitable inconvenience for residents.
Partnership
"I would particularly like to thank those residents who neighbour the bridge for being so tolerant during the construction work."
Powys council leader David Jones said: "I am delighted that both our councils have joined together to rebuild this bridge and maintain the links between the villages on this boundary.
"All councils in Wales are looking at their services to see if they can be delivered in a more efficient way and this is one example of how partnership work can benefit the local communities."