Severn tolls 'no deterrent to trade or tourism'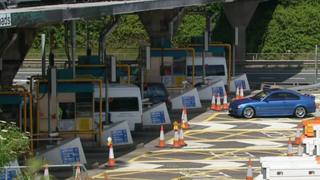 As tolls on the Severn crossings rise with the arrival of 2013, a transport expert is warning there is not enough evidence for cutting them in future.
Travelling by car from England to Wales on the M4 and M48 crossings now costs £6.20, up 20p on 2012 prices.
The crossings are expected to pass into public ownership from 2018, with some calling for the tolls to be cut.
But Prof Stuart Cole said there was little to support claims that charges deterred inward investment or tourists.
Motorists only pay to enter Wales across the two bridges while travelling eastbound from Wales into England is free.
The tolls for vans and minibuses rose 30p on New Year's Day to £12.40 while tolls for lorries and coaches rose 50p to £18.60.
Operated by private company Severn River Crossings Plc, the two bridges are used by about 80,000 vehicles every day.
The company's concession will end when takings from the tolls reach £996m at 1989 prices, predicted to happen in 2018.
First Minister Carwyn Jones has called for control of the bridges to be transferred to the Welsh government in at that time.
A report commissioned by the Welsh government in November said businesses and consumers spend £80m a year crossing the Severn bridges.
It said abolishing the tolls would increase traffic by an estimated 11,000 vehicles a day and could boost south Wales' economic output.
A Welsh government spokesman has previously said: "The UK government control the level of tolls on the Severn crossings, and it is a matter for them to justify this increase to the people of Wales."
However, Prof Cole, professor of transport at the University of Glamorgan, told BBC Wales: "The question is, when the [Severn] bridge is transferred in 2018 to the public sector, will it stay with the Department of Transport or will it be transferred to the Welsh government?
"If it comes to the Welsh government, then it has an option of either using it as a revenue generator to pay for other schemes like electrification of the main [railway] line, the new M4 and other schemes, or it can reduce the toll.
"And there isn't enough evidence at the moment to suggest that people are dissuaded from inward investment or tourists are being dissuaded in large numbers from coming to south Wales because the toll is there."