Weather in Wales improving after flooding on Monday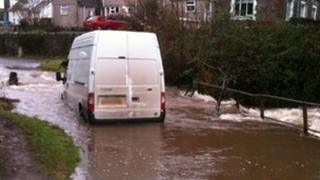 The weather is set to improve across Wales on New Year's Day following flooding and travel disruption in parts of the country on Monday.
Some roads were closed and rail services affected as nearly an inch of rain (20 to 25mm) fell on higher ground.
Forecasters warn of an ongoing flood risk due to saturated ground and river levels but a drier day is expected.
Patchy ice is also possible early on Tuesday.
Monday saw rail services affected in Powys and Carmarthenshire while a man was trapped in his van in a flooded ford on Gower.
On Tuesday morning, a number of roads remained closed due to flooding:
The A4042 in both directions at Llanellen, Monmouthshire, between the B4269 and A40 Monmouth Road/A465 Heads Of The Valleys Road (Abergavenny)
The A487 at Derwenlas, Powys, between the A489 Heol Maengwyn (Machynlleth Leisure Centre) and Glandyfi
The A487 Machynlleth between A493 (Dyfi Bridge) and Maes Glas (Machynlleth Railway Station)
Environment Agency Wales flood warnings and flood alerts also remained in place on Monday evening.
BBC Wales weather presenter Sue Charles said the outlook for the next few days was better but it may be colder.
"Patchy ice is possible to start New Year's Day but it is generally drier with variable amounts of cloud and plenty of sunny spells developing," she said.
"There may be the odd light shower in the north west but most of us will avoid them.
"So after a wet end to the year with a few showers over the next few days it will be a much drier and more settled start to 2013."
She added that 2012 had been a particularly wet year.
"2012 was the wettest year on record in England, possibly the UK as a whole, but probably not for Wales," she said.
"Though after Monday's rain, it could end up as the third wettest, after 2000 and 1954."