Radio Cymru makes changes over Welsh language musicians row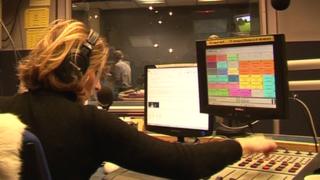 BBC Radio Cymru, which is at the centre of a dispute over the issue of royalty payments to Welsh language musicians, has announced changes to programmes.
The Welsh language station will play some English language music if the row is not resolved by 1 January.
Over 300 artists involved in the dispute say they want a "fair price for Welsh music" on Radio Cymru.
BBC Wales says Eos, the body representing the artists, has turned down a substantial offer.
Eos said it wants the BBC to reconsider its approach.
Discussions between the two parties are expected to continue on Monday.
So far the talks have remained deadlocked, which could leave Radio Cymru unable to play around 30,000 popular songs.
The dispute arose from a change by the Performing Right Society (PRS) in 2007 which many Welsh language artists claim cut their royalty payments by as much as 85%.
Since then, an alliance of Welsh musicians and composers have sought to improve the payments made by broadcasters, launching a new agency in August this year to handle the licensing of their work.
From 1 January, 2013 the rights to music by 331 artists will transfer from PRS to Eos, requiring radio and TV stations to make agreements with the new agency to continue using music by those artists.
Music journalist John Robb, said the PRS system of collecting money for musicians is quite complicated as not all musicians are members of the system, whilst others feel they are not being treated fairly.
"In this case the Welsh language musicians feel they aren't getting the right percentage.
"Most people feel that PRS is working... but there's always controversy about how it works," he added.
If Eos and the BBC can not come to an agreement, the station will broadcast programmes with a number of changes from Tuesday.
'Difficult circumstances'
Daily output will be reduced by two hours, with popular classical and instrumental music, as well as a number of English language and international artists, played during the daytime.
The C2 evening programmes - which showcase new Welsh music - will be cut to an hour, and the station will begin broadcasting an hour later in the morning, at 6.30am.
It will also finish broadcasting an hour earlier at night, at 11pm.
Gwilym Morus, Eos chair, said: "It's a shame that the BBC have chosen to damage the national radio service because they are unwilling to pay a fair price for Welsh music."
He added that failure to come to a "reasonable agreement" was leading to some programmes being cancelled while others are cutting back.
"The last thing we want is to see any more harm done to Radio Cymru - our audience is the BBC audience.
"These decisions by the corporation bosses are going to have a negative impact on that audience.
"Regretfully I believe the BBC in London is showing a lack of respect towards their own staff in Wales and towards Welsh culture.
"We ask them to reconsider their current approach so as to avoid causing any long term damage to Radio Cymru," he said.
Sian Gwynedd, head of Welsh language programmes and services at BBC Cymru Wales, said that while Welsh language music would continue to be the "bedrock" of Radio Cymru's output, the dispute would prevent it from playing most of its usual repertoire.
"This will clearly have a noticeable impact on the service we can deliver, but I would like to emphasise to our listeners that we are doing everything possible to protect the quality of our programming despite the difficult circumstances," she added.
Meanwhile, the BBC Trust, which oversees the BBC and acts on behalf of licence fee payers, has also warned the dispute risks damaging an "essential service" for listeners.
In a letter to the BBC Cymru Wales Director Rhodri Talfan Davies, the BBC National Trustee for Wales Elan Closs Stephens said: "Nobody wins from this action, least of all the Radio Cymru audience," she added.
'Hope of agreement'
Mr Davies said the corporation was doing "everything humanly possible" to reach a "sensible and sustainable" agreement with Eos.
"We have listened carefully to the concerns of the musicians and recognise the significant impact this dispute could have on Radio Cymru's listeners if it is not resolved," he said.
"We hope an agreement can be reached as soon as possible."
On Saturday, S4C announced it had reached an agreement with Eos over the broadcast of Welsh language music on the TV channel.