Welsh language musicians agree deal with S4C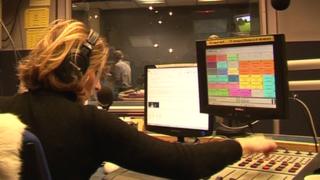 S4C has reached agreement over the broadcast of Welsh language music by artists represented by a new agency.
More than 300 musicians and composers broke away from the Performing Rights Society (PRS) claiming they were being short-changed for their work.
The TV channel has been given the go-ahead to use music by members of the Eos agency from New Year's Day.
Talks between Eos and the BBC remain deadlocked and could leave Radio Cymru unable to play many popular songs.
The dispute arose from a change by PRS in 2007 which many Welsh language artists claim cut their royalty payments by as much as 85%.
Since then, an alliance of Welsh musicians and composers have sought to improve the payments made by broadcasters, launching a new agency in August this year to handle the licensing of their work.
From 1 January, 2013 the rights to music by 331 artists will transfer from PRS to Eos, requiring radio and TV stations to make agreements with the new agency to continue using music by those artists.
'Spirit of co-operation'
Gwilym Morus, chair of Eos, said: "We're very pleased that we were able to reach an agreement with S4C. It means that the music of Eos members will continue to be used by our national television channel.
"We thank S4C managers for holding these talks in the spirit of co-operation in order to reach an agreement."
Elin Morris, S4C director of corporate and commercial policy, said: "We're glad that through this agreement we can show once again our commitment to Welsh musicians - and to our audience who wish to hear their work.
"Through this agreement, we have been able to avoid any break in the use of Eos members' music and we can enjoy the benefits of a blanket licence for all the works of Eos members.
"But above all, we are able to continue including works by a variety of Welsh musicians on S4C services in order to meet the needs of our audiences."
Shortly before Christmas, BBC Cymru Wales said Eos had turned down a substantial offer to settle the dispute.
The agency criticised the offer but said it was willing to continue talks.
Radio Cymru could lose access to play over 30,000 songs if no agreement is reached before Tuesday.
On Saturday, a BBC spokesperson said: "We welcome the fact that Eos have reached an agreement with S4C - it's good news and shows that an agreement is possible.
"We are in discussions with Eos and hope that a successful outcome can be achieved as soon as possible."