Gay bullying in schools extent unknown, Plaid Cymru claims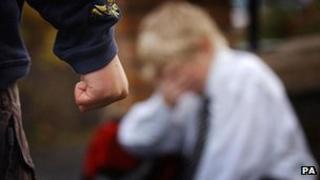 Most Welsh councils do not know the extent of homophobic bullying in schools because they do not keep a record of it, Plaid Cymru claims.
A freedom of information (FOI) request by the party found that only four out of 22 local authorities had information about bullying incidents.
The majority said they did not keep records, although schools might.
The gay rights charity Stonewall Cymru has called on schools to have plans to deal with homophobia.
Figures released to Plaid Cymru following the FOI request show that Ceredigion council has recorded 73 incidents of homophobic bullying which have been dealt with at its schools since September 2010.
Conwy council said that it was aware of 18 incidents over the same period while one had been recorded at Gwynedd and Bridgend.
The other 18 councils said they did not keep records, although individual schools might.
South East Wales AM Lindsay Whittle, who is Plaid's shadow equalities spokesperson, said the party's survey was "worrying".
"It reveals that most local authorities are in the dark over the extent of homophobic bullying and, possibly, bullying generally," he said.
"Some local authorities like Ceredigion and Conwy clearly have systems in place to record this information which is to be applauded.
"Knowing the extent of any problem is key to dealing with it, so something needs to change.
"Schools need to pass on information to local authorities or local authorities need to ask them to pass it on. It is also important that we know incidents are also being dealt with.
He added that he would be raising the issue in the Welsh assembly in the new year and that the Welsh government might need to take action to ensure adequate bullying records are kept by councils.
Training inspectors
Mr Whittle said that he was also passing the information obtained by Plaid Cymru to Stonewall Cymru.
The charity recently called on all schools to have comprehensive and effective plans to tackle homophobic bullying.
It also wants to see every school inspector training on sexual orientation issues.
Andrew White, director of Stonewall Cymru, said that its research shows over half of lesbian, gay and bisexual young people are bullied in Welsh schools.
"The best schools, including those who work with us through our school champions programme, monitor all forms of bullying, including homophobic bullying, so they can tackle it more effectively," he said.
"Young people should be able to concentrate on learning without fear of being attacked because of the way they were born."