PIP breast implants: NHS Wales replacements for more than 150 women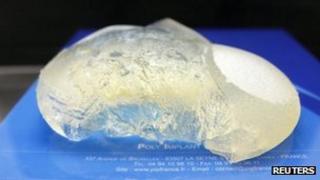 More than 150 women in Wales have had banned breast implants removed and replaced on the NHS after a worldwide health scare earlier this year.
French firm Poly Implant Prothese (PIP) was shut down in 2010 for using industrial-grade silicone gel.
The Welsh government said it would pay to replace implants for those treated privately if there was a clinical need.
Around 250 women are still waiting for treatment, with all affected having had their implants as private patients.
In January 2012, the French government urged 30,000 women to have their PIP implants removed following ruptures.
Figures obtained by BBC Wales' Eye On Wales programme show that 157 women in Wales who had implants from PIP have had them removed and replaced or just removed on the NHS.
Around 42 women seen by the plastic surgery breast implant action team at Swansea's Morriston Hospital were found to have had ruptured implants.
As of 14 December, 547 women had been referred to the team at Morriston and around 426 had PIP implants.
Figures show that 183 are still waiting for surgery in south Wales, while there are 66 women waiting in north Wales. They will receive their operations in Liverpool.
All the patients received their original implants from the private sector.
In March, the Welsh government estimated that around 1,000 women in Wales had been fitted with PIP implants, the vast majority - more than 95% - by private clinics.
Hamish Laing, consultant plastic and reconstructive surgeon at the Welsh Centre for Burns and Plastic Surgery at Morriston, said 157 women had received surgery.
He said the majority of women who had been referred to his team were aged in their 20s and 30s.
"Most women who chose to have surgery would have had their implants removed and replaced, but there are some who would have just had them removed," added Mr Laing.
"A proportion of those would have had ruptured implants and their operations would have been carried out with greater urgency."
Mr Laing said women would have received the PIP implants between 1990 and 2010.
He added: "During that period some women might have already had their implants replaced, some we know had surgery overseas in places like Belgium.
"I'm not surprised not more women have come forward. A lot of women are saying it's a fuss about nothing. Some women might not live in Wales any more. The 1,000 estimate was never going to be very accurate."
Fazel Fatah, former president of the British Association of Aesthetic Plastic Surgeons, added a relatively small proportion of women had come forward in Wales to have the implant treatment on the NHS.
Health Minister Lesley Griffiths announced in January the NHS in Wales would pay for the removal and replacement of PIP implants where the private clinics that fitted them refused to do so and there was a proven clinical need.
In England the NHS has only paid for the removal of the implants.
A report by MPs into the breast implant scandal questioned the Welsh government's policy on replacing them.
Hear more about this story on Eye on Wales on BBC Radio Wales on Sunday 30 December at 13:30 GMT