Sir Anthony Hopkins' Christmas marriage blessing at St Davids Cathedral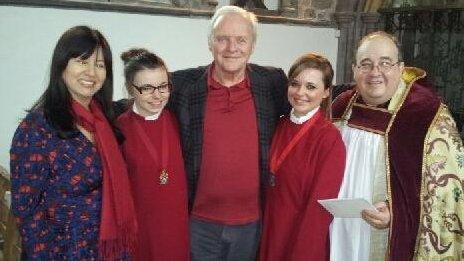 Hollywood actor Sir Anthony Hopkins and his wife Stella Arroyave have had an extra special Christmas - with a private blessing at St Davids Cathedral in Pembrokeshire.
Two of the cathedral's choristers sang at the short service on the morning of Christmas Eve.
Afterwards, The Silence of the Lambs star took time to congratulate them on the quality of their singing.
"I was quite star struck," admitted head chorister Kathryn Page.
The 19-year-old student from nearby Solva later posted a photo on the social network Twitter that the award-winning actor and his wife were happy to pose for.
Deputy head chorister Abigail Ingram joined her in singing Somewhere Over the Rainbow and the Christmas carol Bethlehem Down.
Ms Page said she had been asked if she was free to sing on Christmas Eve by the choirmaster but had no idea who she would be singing for until just before the blessing service, conducted by cathedral Canon Dorrien Davies.
"Just before they arrived at the cathedral, we were told who we were singing for," she said.
"We were told that they had been married ten years and wanted to have a blessing. It was a small service, and Stella's niece was also there.
"It was quite a privilege, to be honest," said Ms Page, a student at Pembrokeshire College who plans to become an occupational therapist.
"It's not every day that you can say you have sung for someone like Sir Anthony. It was really nice.
"When it was all over he came over to us and said to us both 'you have got wonderful voices'".
Port Talbot-born Sir Anthony, who will be 75 on New Year's Eve, lives in Los Angeles with his Colombian wife, but he is a frequent visitor to his homeland.
The Christmas eve blessing was kept private on the day but the star was in the UK earlier this month for the London premiere of his latest film Hitchcock.
Related Internet Links
The BBC is not responsible for the content of external sites.