North Wales Police: 999 call over son's bedtime refusal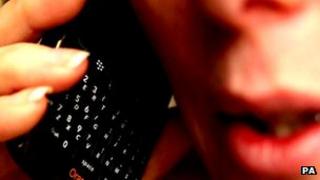 A man saying his son is refusing to go to bed was among several "inappropriate" 999 calls received by North Wales Police this year.
Others included a request for prescribed medication, reports of a faulty phone line and a lost dog.
Police said the festive period was one of its busiest times of year and asked people to use the 999 system wisely.
Officers say 101 should be used for a general inquiry or to report a non-emergency crime.
Supt Paul Breed, of the joint communications centre, said: "We are now approaching one of our busiest times of the year.
"Every false or inappropriate 999 call to North Wales Police takes up precious time and prevents someone who really needs our immediate help from getting through to us.
"I would always encourage people to use 999 in a genuine emergency and never put themselves at risk, and for those people who do not have an emergency, please use our single non-emergency number, 101, and keep the 999 line free for someone in urgent need."
Police detailed examples of inappropriate calls to highlight the problem.
They included somebody reporting their son was playing on a games console and refusing to go to bed.
There was also a report of bins being left outside a property and a request for a phone number for a local authority.
"999 should still be used if there is a crime in progress; violence is being used or threatened; an offender has been recently disturbed or made off; or there has been a road accident where people are injured or the road is blocked," said Supt Breed.
"However, many people dial 999 when their call isn't an emergency simply because they don't know how else to contact the police."
He warned that police had powers to prosecute people who misused the 999 system.
Between January and November this year, North Wales Police received 83,263 emergency 999 calls.