Flooding: Homes evacuated after Ystalyfera and Pontypridd landslides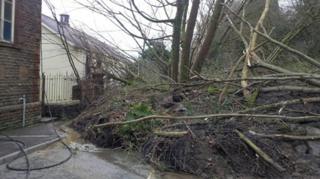 Homes were evacuated after landslips brought thousands of tonnes of soil down onto a road in a Swansea valley village.
Residents in Ystalyfera spent the night in a leisure centre after 11 homes were affected. Four cottages in Pontypridd were evacuated after a wall collapsed.
Flooding also caused disruption on rail lines between Cardiff and Bridgend and near Caersws in Powys.
There are four flood warnings by the Environment Agency in Wales.
In Ystalyfera in Neath Port Talbot, landslips in two places led to evacuations, with some homes left on the edge of a drop after the land slipped away.
The slide forced trees to come to rest against the vestry of a local chapel.
Residents were being let back into homes to check possessions, after 11 homes were evacuated on Saturday night, with South Wales Police saying four homes remain evacuated.
Mid and West Wales Fire and Rescue left the scene at 03:00 GMT on Sunday.
Neath Port Talbot council's environment director John Flower said a stretch of road about 200 yards (180m) long was half covered in mud up to four feet (1.2m) deep.
He estimated the slip at "hundreds if not thousands" of tonnes of water-logged soil.
He said: "Like many steep-sided valleys in Wales, there is continual movement but here we have seen some dramatic movement that has led to large deposits of material on the highway.
"It has brought down many trees. You can see trees at odd angles on the side on the mountain that are about to lose their roots."
Residents are either staying with relatives or have been provided with accommodation by the council.
Work to begin assessing the scale of the slip and how it can be removed is to begin on Monday, said Mr Flower.
Meanwhile, residents had to leave four homes in Berw Road, Pontypridd, after a retaining wall collapsed at the back of properties.
Craig Stewart heard a noise and led his partner and seven-month-old baby to safety, adding: "Just as we were starting to run down the stairs you could hear the whole thing crash and it was like thunder."
His father David described the scene: "It's a row of about 10 miners' cottages, and the wall collapsed. There's a black expanse of rubble and earth.
"The rubble is up to the bedroom windows in some cases, and one kitchen has disappeared. How nobody was killed, I don't know."
Arriva Trains Wales (ATW) said flooding disrupted services between Cardiff Central and Bridgend, and Caersws and Machynlleth in Powys.
Trains between Cardiff Central and Bridgend were temporarily suspended but services were reinstated, subject to a diversion.
Replacement road services are also running between Machynlleth and Caersws.
Rail services between Bristol Parkway and Cardiff Central could be delayed by an hour.
The number of flood warnings has been reducing but at 16:40 GMT they were still in place for: River Teifi at Lampeter and Llanybyther; the Dyfi valley; the River Ritec at Tenby and the Lower Dee Valley from Llangollen, Denbighshire, to Chester.
BBC Wales weather forecaster Derek Brockway said in the 48 hours to 06:00 GMT on Sunday, rainfall totals in Wales ranged from 14mm (0.6in) to 60mm (2.4in), with Mumbles near Swansea one of the wettest.
He said the weather would be much drier on Sunday with the wind slowly easing.
In Llancarfan, in the Vale of Glamorgan, staff and drinkers at a pub rescued a motorist from the River Carfan on Saturday afternoon.
The woman was driving through the village, which has a ford through the river, when her black Mini ended up in the swollen waterway.
Sue Millard, who runs the Fox and Hounds Inn with husband John said a neighbour raised the alarm as the car, with the woman trapped inside, floated down the river backwards.
She said: "It got stuck on the bridge by the village hall. Luckily for her, it stopped on the middle section as opposed to the two archways either side."
She said the neighbour and a regular broke the passenger window with a ladder which they then put into the car.
One of the rescuers, Sam Smith, said: "We got a ladder. We smashed it through the window. Well, I suppose [my] Royal Marines training took over. I crawled across the ladder. Got the woman to come out of the car, then we brought her across the ladder.
He less than a minute after the woman was pulled clear, the car became stuck under an archway.
He added: "There's no question, the poor lady would have been drowned. She was terribly traumatised."
Elsewhere, about 25 firefighters from Mid and West Fire Service were called to 30 flooded houses in Kingrosia Park, Clydach, Swansea, on Saturday afternoon.