Archbishop's message: Children teach us joy of Christmas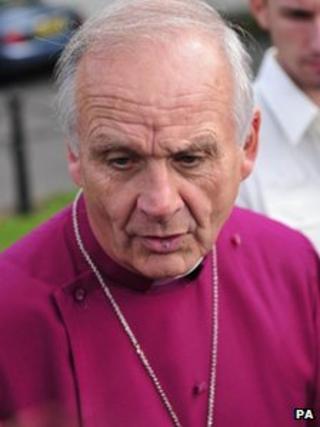 The Archbishop of Wales says his faith in the Christmas story has been rekindled by the enthusiasm of children for it.
In his festive message, Dr Barry Morgan says adults can learn from children about the meaning of Christmas.
He said that on recent visits to schools he was struck by the children's sense of wonder in the Christmas story.
Dr Morgan said he was also impressed by the children's generosity to those less fortunate than themselves.
"The children have a great deal to teach us what this feast is all about," he said.
"I've been to lots of schools during the month of December and two things have struck me about these schools.
"One, the sense of wonder these children have, the great happiness they show, the joy in the Christmas story.
"And that's what the Christmas story is all about - joy to the world, the Lord has come.
"They've rekindled my kind of faith in that."
He said he had also been struck by how kind the children had been.
"They've brought gifts because there are people who are homeless, there are asylum seekers and they are always very generous, these children, and that goes to the heart of what Christmas is all about," he said.
"It's God giving himself to his world and asking us to give to those, especially those who are less fortunate than ourselves.
"I think children have a great deal to teach us older people who tend to be a bit cynical about the whole thing."
Meanwhile, the president of the Union of Welsh Independent Churches made reference to the recent census results in which 58% of people in Wales said they were Christians but 32% said they had no religion.
The Reverend Ron Williams, in his Christmas message, said the fact that most people in Wales ticked the "Christian" box was a "source of optimism".
"A Roman census was responsible for Mary and Joseph's journey to Bethlehem, where God was born to the world in Jesus," he said.
"The 2011 census data, which shows that well over half the people in Wales consider themselves to be Christians, indicate that the majority of our nation still yearn to walk with God.
"The census data challenges Christians to assist those who show an interest in going on a new journey to see God.
"But if we are not alert to every opportunity to help such people, there is a danger we may lose that which is dear and important in our nation's life."