Review of the year: The arts in Wales by Huw Thomas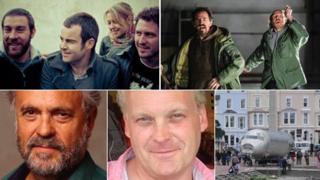 When the curtain came up on 2012, the cultural world could have been forgiven for expecting to play second-fiddle to the Olympic Games.
Instead, the past 12 months have proven that the dramas, successes and catastrophes of the athletics track can be rivalled by the arts and media in Wales.
Here is a reminder of some of the year's most notable events.
ART
The £40,000 Artes Mundi prize is the UK's most lucrative award for art.
Staged every two years in Cardiff, this year's international shortlist of seven artists included public performance, sculpture and film.
The winner of this year's prize was the Mexican artist Teresa Margolles. Her emotive work included blood-stained floor tiles from a building where one of her friends was murdered.
Mexican artist wins £40,000 prize
Gemma Copp was named Welsh Artist of the Year for her "touching and poetic" video of a woman waiting in a boat for the tide to take her away. She has form, having previously won the prize in 2010.
Boat on beach wins artist prize
The fuselage of a DC-9 plane was the mobile gallery for a diverse series of events across Wales. Adain Avion was part of the Cultural Olympiad, and gave a venue for art, performance and debate.
Wingless plane ends arts journey
Controversy surrounded the annual art exhibition at the National Eisteddfod.
Its gallery, Lle Celf, displayed paintings that depicted Rebecca Aylward and the man who murdered her.
Ms Aylward's family live in Maesteg, around 20 miles from the site of this year's festival in the Vale of Glamorgan, and complained about the works. The paintings were eventually removed.
THEATRE
Works staged as part of the Cultural Olympiad were among this year's theatrical highlights.
National Theatre Wales continued its innovative use of space to stage its interpretation of Shakespeare's Coriolanus at an aircraft hanger in the Vale of Glamorgan. The actors mingled with the audience in a performance that won critical acclaim. RAF hangar turns stage for play
Theatr Genedlaethol Cymru, the Welsh-language national theatre company, staged its first ever Shakespeare play. Y Storm, a translation by Gwyneth Lewis of The Tempest, was performed in a purpose-built tent on the site of the National Eisteddfod.
Sherman Cymru reopened to the public following a £2m refurbishment. Jonathan Adams, the architect behind the stunning curves of Wales Millennium Centre, brought symmetry and minimalism to Cardiff's popular smaller venue.
Sherman hosted the final performance of the successful Welsh language play Llwyth, which has toured to Edinburgh and Taipei (with subtitles). The drama, by Dafydd James, follows the antics of a group of gay men in Cardiff. The writer and pundit Jon Gower called it the best Welsh language play written in his lifetime.
Wales Millennium Centre hosted the European premier of Cape Town Opera's Mandela Trilogy. It continued the partnership between the Welsh venue and the South African company that also brought its production of Porgy and Bess to Cardiff in 2009.
MUSIC
Future of the Left won the second annual Welsh Music Prize for their third album, The Plot Against Common Sense.
Fans of Brecon Jazz were relieved to see the festival return, after an appeal was made for a new operator to run the event. Cardiff-based Orchard is now managing the annual celebration of jazz, which brought 30,000 music-lovers to Powys in August. The company has bigger plans for 2013.
An addition to the Welsh festival scene brought New Order, Primal Scream and Gruff Rhys to Portmeirion in Gwynedd. Festival No. 6 is themed around The Prisoner TV series, and mixed music with street performance in an event that gained five stars from the critics, and will return in 2013.
In pictures: Portmeirion No. 6 festival
Festival No. 6 review in The Guardian
Welsh National Opera secured a $2m (£1.2m) donation from the Getty family to perform a series of operas in the UK for the first time. Some critics raised an eyebrow at the inclusion of an opera by Gordon Getty himself among the new works, but WNO insists he is an accomplished composer that merits performance.
Opera chief defends Getty show
A dispute about the royalty payments that composers and publishers receive for having their work played on BBC Radio Cymru led to a threat that could have left the station without much of its most popular music to play.
The alliance of musicians, called Eos, wanted more than the 42p a minute they currently receive through PRS for Music when their songs are played.
They withdrew their broadcast rights agreement from PRS to negotiate directly with the BBC, with Eos taking full control of those rights on 1 January, 2013.
An agreement is still to be reached meaning the BBC may not be able to play between 20,000 and 30,000 Welsh language songs.
LITERATURE
Works by two established writers were named Wales Book of the Year. The English-language prize was taken by Patrick McGuinness's The Last Hundred Days, set in Romania in 1989. Jon Gower won the Welsh-language award for Y Storiwr (The Story Teller).
Wales Book of the Year announced
There was a double-helping of new literature festivals to take place in Wales this summer, alongside the 25th anniversary celebrations at Hay. Rain didn't do too much to dampen the enjoyment at the inaugural Dinefwr Literature Festival, a three-day bilingual event near Llandeilo.
New festival success despite rain
But lack of appetite saw the Kidwell-e Festival in Kidwelly close when fewer than 100 people turned up for the event that was supposed to promote e-books and self-publishing. Optimistic organisers had anticipated a crowd of 25,000.
Poor turnout hits e-book festival
In response to a shortage of critical debate in Wales around literature and the arts, the Wales Arts Review (WAR) was established this year. An online labour-of-love for Gary Raymond and Dylan Moore, it staged a successful Critics Roundtable in Cardiff to bring real-life debate to its internet reviews. WAR has grown quickly to become a fortnightly fix of arts news and reviews.
End of Year Review 2012 Wales Arts Review
FILM, TV & RADIO
Hirwaun-born director Gareth Evans held the premiere of his film The Raid in Cardiff in May this year. Named by Variety as "one to watch" in 2012, his latest film pleased the critics. It was set in the slums of Jakarta, and focused on a 30-floor safe house for the city's toughest criminals.
BBC - Blogs - Wales - Gareth Evans' The Raid premieres in Cardiff
The Soundtrack Festival brought film screenings, masterclasses and Q&A sessions to the annual event in Cardiff that explores the music behind the moving images.
Welsh film Patagonia took four prizes at this year's Bafta Cymru Awards, including one for its director, Marc Evans. There was also a Bafta for young actor Craig Roberts for his portrayal of 15-year-old Oliver Tate in the Swansea-based film, Submarine.
Four Bafta Cymru awards for film
ITV Wales was given security when UK culture secretary Maria Miller announced she would not oppose the renewal of its licence to broadcast for another 10 years. The channel is now in talks with Ofcom over the terms of the new licence, which will come into force at the start of 2015.
BBC Cymru's Newyddion on S4C said farewell to Dewi Llwyd, who had been with the news programme since its launch in 1982. Before he left, a programme he presented from New York to mark the tenth anniversary of the 9/11 attacks won the team a Bafta.
OBITUARIES
It was a year when many leading figures from the arts left us.
The death of Philip Madoc in March reminded us of the distinguished presence he had held on stage and screen, in English and Welsh, for decades.
Philip Madoc: A career in pictures
Victor Spinetti, Brian Hibbard and Dorien Thomas passed away within days of each other in June, taking with them a swathe of acting talent that had enriched Welsh cultural life.
And just weeks after accepting a special Bafta award for his outstanding contribution to TV drama, the producer and director John Hefin lost his fight with cancer in November.
NEWSPAPERS
South Wales Evening Post editor Spencer Feeney retired in September, but not without predicting that local papers will continue to thrive beyond his 43 years in journalism.
Local papers 'are still powerful'
Despite his optimism, circulation figures showed year-on-year falls of between 3.8% and 8.8% at all of Wales' daily papers. The Evening Post is still Wales' best-selling paper, but it also suffered the biggest fall in readership.