Economists expect slow growth in Welsh economy in 2013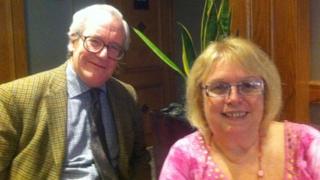 In the past if people wanted to look ahead into a new year they may have consulted the runes, an astrologer or even a crystal ball.
I decided the way to try to assess what may happen to our economy in the year ahead was to meet up with two leading Welsh economists.
I chose Prof Patrick Minford, now at Cardiff University but who advised the UK government during the recession of the 1990s, and Dr Kath Ringwald, who is an expert not just in the Welsh steel industry but also the Chinese economy, a force to be reckoned with and one to watch.
So how do our fortunes look for 2013?
Better than the past year, says Prof Minford. He says whereas we have had no growth for 12 months, it will return but slowly.
He thinks economies naturally recover. Growth in the UK economy has been held back, he maintains, because of the banking crisis and its aftermath.
Prof Minford forecasts that there will be an easing of credit this year and he expects the UK government to give more emphasis to schemes like Funding for Lending to further encourage banks to lend to small businesses.
He said: "I think it's going to the financial sector and other service activities. There will also be high value manufacturing, which has been one of Wales' strengths but manufacturing has never been a big growth factor in the UK. We're looking for niche areas to grow.
"It's going to be difficult and much slower than in the past.
"I think the [Welsh] government has got to be very agnostic about where growth is going to come from. It mustn't get into the mindset of 'backing winners'.
"But I think it's perfectly right to put support in for business across a wide spectrum of things - infrastructure, broadband, all these things that generally help business - and then sit back and see where it's going to take root and what's going to grow."
Dr Ringwald agrees and says she things the present employment picture is more encouraging than this time last year.
However she adds that there is a lot of uncertainty and caution around which will dampen spending and the economy.
She says there is no feel-good factor around this new year to get us spending and to get the economy moving again.
But Dr Ringwald questions whether Wales will return to the so called boom days of the past and if so she thinks it will be a long haul.
'Seen the bottom'
She says the UK government has acknowledged that there will be public sector cuts until 2018 and she says that reduced spending will have a damaging effect on private companies in Wales.
She also says the recovery will be different in nature from what we have experienced in the past.
In the 1990s, Wales recovered with the help of large-scale inward investment. Dr Ringwald says we now have similar problems but need to search for a different solution.
"We've got to recognise that the majority of businesses in Wales are small businesses so if we are going to see growth - growth in employment, growth in our local economies -that's going to come from small business.
"We've also got to raise our aspirations. We've tended to look at the traditional jobs, the traditional industries, and in the future we're going to have to look towards areas like the creative industries where we have been very successful."
Perhaps the final word should go to Prof Minford.
He said: "I remember a businessman in the heart of the crisis in 2008 saying, 'if only I could see the bottom'.
"I think what I'd say to people today is you probably have seen the bottom."