Kevin Lavelle murder: Police in Pontypridd over Banbury killing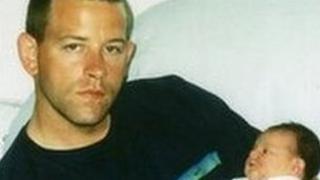 Murder hunt detectives are visiting south Wales in the hunt for the killer of a man attacked outside an Oxfordshire pub eight years ago.
Police, who are offering a £25,000 reward, are handing out posters in Pontypridd after the death in 2004 of Kevin Lavelle, 29.
He was attacked outside a pub in Grimsbury, Banbury, after he was in an argument with several Welshmen.
A father-of-two of Bootle, Merseyside, he was attacked with an iron dumbbell.
An inquest ruled in 2009 that he was unlawfully killed outside the Cricketer's pub where a group of men from south Wales had been staying.
"We strongly suspect that the person responsible lives in the south Wales area," said Det Insp Steve Duffy, leading the investigation.
"We are going to Pontypridd and will be conducting inquiries in that area today," he told BBC Radio Wales.
Mr Lavelle, a crane driver, was working in Banbury to save money for his wedding. No-one has ever been convicted over his death.
His partner Michelle said: "He was a real family man and just wanted the best for his kids."
There is a reward of £25,000 on offer for information leading to a conviction of his killer or killers.
It is made up of £10,000 from Thames Valley Police and another £10,000 from the Justice for Kevin Lavelle fund.
'Large sum of money'
The Crimestoppers charity has also offered £5,000 for anonymous information.
Det Insp Duffy said: "It is my belief that the persons responsible for this incident may well have discussed this matter with other people and that third parties who are not so well connected and their loyalties are not so strong will certainly be tempted by the offer of such a large sum of money.
"I strongly believe that there is at least one person out there not connected with the incident who is aware of the circumstances and I would strongly urge that person to come forward."
He said the reward was offered for details received anonymously if people were "not confident enough to speak to me directly".