Welsh language music payment dispute talks stall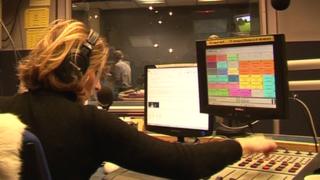 Talks in a dispute over the issue of royalty payments between the BBC and a group of Welsh language musicians have reached a deadlock.
The artists want an increase in payments for their music played on Radio Cymru.
BBC Cymru Wales said EOS, the body representing the musicians and composers, had turned down a substantial offer.
EOS criticised the BBC's offer but said it was willing to continue talks.
Radio Cymru could lose access to play over 30,000 songs at the end of the month if no agreement is reached.
From 1 January, the right to broadcast the songs of more than 300 Welsh-language musicians and music publishers will rest with EOS.
It followed a deal with the UK performing rights group PRS in 2007 which set the level of payment for songs on Radio Cymru at 42p a minute.
It was at a time when Welsh-language musicians were receiving about £7.50 a minute, including public performance payments.
EOS will now take over the PRS role for gathering fees for music that is broadcast, while PRS retains the rights to gather other music use - such as live performance.
The BBC said its latest offer went beyond what the PRS had ever paid before for the broadcast element of the rights.
BBC Cymru Wales Director Rhodri Talfan Davies said: "We have made every effort to resolve the dispute, and are very disappointed that we haven't been able to secure an agreement.
"We have listened carefully to the musicians' concerns and responded with a very significant proposal that recognises the importance of the music to our Welsh language audiences and to wider cultural life in Wales.
"Sadly, EOS today (Thursday) rejected this offer, and instead demanded a more than tenfold increase in fees.
"This is just unrealistic at a time when all public service broadcasters are having to tighten their belts.
"We will now have to withdraw a significant portion of Welsh language music from Radio Cymru on January 1st - a move that risks damaging a service that is right at the heart of Welsh life and culture."
He said he urged EOS to reconsider its position and to "resume talks as soon as possible".
The BBC warned it also expected that broadcasting hours would need to be cut, barring a last-minute deal.
Dafydd Roberts, chief executive of Sain Records and a representative of EOS, criticised the BBC's conduct saying the broadcaster had issued a press statement while negotiations were still continuing.
He added: "The BBC has announced it has stopped negotiations so it's deadlocked from their side.
"There's a lack of understanding from the BBC's side. They keep referring to PRS rights but don't realise they're discussing with an independent licensing body now.
"EOS have actually come down more than the BBC have increased their offer so it's misleading to say they've made a significant improvement in their offer."
He said his phone was still on and he would be willing to continue negotiations.
Mr Roberts has said the dispute could ultimately affect all UK broadcasters who wanted to use music composed by his group's members.