NHS Wales: A year of pressure and change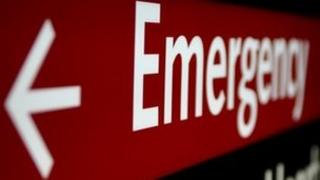 The health service in Wales has been under unprecedented pressure this year.
While health boards have been asked to find hundreds of millions of pounds worth of financial savings, demand for key services such as accident and emergency and care for the elderly increased.
In 2012, the process of reshaping NHS services across the country also began in earnest.
If you talk to anybody in the NHS in Wales about 2012, one word comes up a lot - change.
The Welsh NHS is gearing up to make some of the biggest changes in its history.
And those changes to the NHS in Wales were central to the biggest political row of the year, which led to Health Minister Lesley Griffiths facing a no confidence vote in the Senedd in July.
Opposition parties were incensed after it emerged that the health academic Prof Marcus Longley had asked for "killer facts" from civil servants while preparing a report which was described as an independent analysis into why the NHS in Wales needed to change. Yes, that word again.
Prof Longley denied there had been any "collusion or conniving" when questioned by a committee of AMs.
But the prospect of change in the NHS didn't only get politicians hot under the collar.
There were demonstrations in north and west Wales over plans by the Betsi Cadwaladr and Hywel Dda Health Boards to close some community hospitals and centralise in fewer large hospitals.
Decisions in the north and west are expected in January and health boards in south Wales will consult on similar plans soon.
But health boards have not been only been drawing plans to change services, they have also been trying to save money - and lots of it - around £220m pounds to be precise.
In March, three health boards were given last minute loans by Lesley Griffiths to help them balance their books and were warned there would be no further bailouts. But in November came another cash injection of £82m.
So did the health minister change her mind? No, said the Welsh government; the extra cash was not a bailout but money to deal with extra pressures such as an increase in a demand for A&E services from elderly patients.
Meanwhile, earlier in December, a very personal story reflected an issue across the health service. Cynon Valley MP Ann Clwyd talked emotionally of how her late husband died "like a battery hen" in hospital in Cardiff.
She vowed to start a campaign for greater compassion and care in nursing.
Change could also be on the way for the ambulance service. It is being reviewed after it emerged the Welsh Ambulance Service had had been operating for most of the year without a definitive budget.
And another change on the horizon - the Welsh government's plan to change the law on organ donation. If the bill is passed next summer Wales will be the only part of the UK to introduce a system where people will be presumed to have given their consent to allow their organs to be donated unless they specifically opt out.
So yes, it could be all change.
But where 2012 was the year of talking about it, 2013 could be be the year when some of the biggest changes to the Welsh NHS in its history actually happen.