Wales flood alerts prompted by heavy rain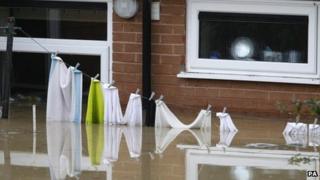 The Environment Agency has issued one flood warning and 13 flood alerts for rivers in Wales, as heavy rain continues to fall.
Forecasters warned that as much as 40mm (1.5in) of rain could fall during the day.
A Met Office amber weather warning was in force for most of south Wales and southern Powys until late afternoon.
A flood warning was in place for the River Dee from Llangollen in Denbighshire to Chester.
Fire crews in south, mid and west Wales were called to a number of isolated flooding incidents involving cellars and basements.
The Environment Agency called on people to remain "vigilant" for localised flooding, especially in mid and west Wales.
A spokesperson said: "Agency officers are currently working in the area to check that rivers are clear of blockages and that Agency defences are in good working order.
"The band of heavy rainfall will spread across most of Wales on Thursday with the worst of the weather concentrated in the south east."
Rivers Wye and Monnow in Monmouthshire
Upper Teifi, catchment upstream of Llanybydder
Rossett, parts of the village near Alyn Bridge, including Station Road
Alyn catchment, areas around the river Alyn from Llandegla to Rossett
Upper Towy, rivers in the upper Towy catchment upstream of Llandeilo, excluding the Bran at Llandovery
South Pembrokeshire rivers
River Ely
Upper Severn in Powys, River Severn and its tributaries
River Wye in Powys
Rivers Taf and Cynin
Rivers Bran and Gwydderig at Llandovery
Upper Teme upstream, including Knighton in Powys
Vyrnwy catchment, including Afon Vyrnwy, Afon Tanat and Afon Cain and their tributaries in Powys
The Mid and West Wales Fires and Rescue Service said it had been called to two flooding incidents on Thursday.
A crew from Sketty attended at a Primark clothing store in Swansea city centre just before 09:30 GMT to deal with flood water in the shop basement, while a crew from Port Talbot responded to calls of flooding outside caravans at a park in Kenfig Hill in Bridgend county.
South Wales firefighters have also been called to Gelligaer Primary School at Hengoed in the Rhymney Valley after reports of water in a basement. Crews are trying to establish whether the incident is due to flooding or a building leak.