Welsh whisky Penderyn to triple production for export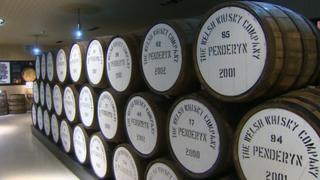 When Prince Charles launched Penderyn Whisky's single malt on St David's Day eight years ago it was so successful that stocks ran out within days.
Since then it's gradually ramped up sales, production and its distribution network to become a well established niche operation based in the village which bears its name on the southern edge of the Brecon Beacons near Aberdare.
It sells around 150,000 bottles of whisky a year. Most of those sales come off the shelves of British supermarkets.
Now it's announced plans to take the company to the next level.
It will invest £800,000 building two new stills which will give it the capacity to triple production of single malt although, because of the ageing process, it will take up to seven years to begin selling the new whisky.
Even by the standards of the giant Scottish whisky distillers, the expansion will turn Penderyn from a niche operator into a medium-sized producer.
And like the big Scottish distilleries, Penderyn will be targeting the export market.
Shunning cliches
It currently exports around 20%, compared with around 80% exports by the Scottish producers.
The challenge is building up a young brand in a market dominated by mature Scottish names.
One option would be to exploit its Welshness for marketing purposes but the managing director Stephen Davies said it is trying to do this in a subtle way.
He said: "We do have a house rule which is no dragons, daffodils and women in tall black hats.
"I think that's a bit too cliched. We want something that represents a more modern Wales.
"The long term plans really will be to treble the size of the business.
"In 10 or 15 years, I think this business will be turning over £15m to £20m and we will be probably selling 700,000, or more, bottles of whisky."
James Horsham, a branding expert, said Penderyn can succeed in expanding but explained the challenges it is up against.
He said: "If you're faced with two brands, which are of similar price and have equal quality packaging, if one is from Wales and one is from Scotland, as a consumer I bet 90% would go for Scotch whisky because it has provenance."