Wales NHS attacks: Prosecutions up as campaign launches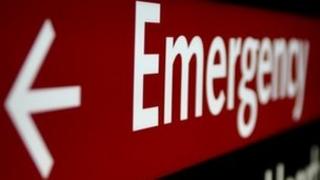 Prosecutions for attacks on NHS staff in Wales have risen significantly in the past year, figures show.
Courts dealt with about 200 cases in the 12 months to October - the same number as in the previous 18 months.
The statistics have been released to tie in with a new campaign warning Christmas revellers against verbal and physical abuse of NHS workers.
Health Minister Lesley Griffiths said: "Violence against NHS staff will simply not be tolerated."
Meanwhile North Wales Police are increasing patrols at three hospitals.
The patrols began last week at Ysbyty Gwynedd, Bangor, where officers said it was a "main priority" to support on-site security staff.
Betsi Cadwaladr University Health Board (BCUHB) said patrols would also increase at Wrexham Maelor Hospital and Ysbyty Glan Clwyd, Bodelwyddan, Denbighshire.
Police are being deployed from early evening until the early hours over Christmas in anticipation of a rise in alcohol-related admissions.
The routine rise in patrols as the Christmas party season gets into full swing comes as the Welsh government launches its campaign.
Ms Griffiths said increased co-operation between the NHS, police and the Crown Prosecution Service (CPS) made the prosecution of people who attack health care workers much more likely.
She said there there had been nearly 200 successful prosecutions in the 18 months from April 2010 to October 2011.
Current Welsh government figures show 387 prosecutions in the 30 months from April 2010 to October 2012.
That means there were about 200 prosecutions in the 12 months up to October this year.
Custodial sentences include:
A 30-month sentence for a patient who threatened a nurse in an outpatients department with a knife
A 12-week sentence for a patient who was verbally and racially abusive to staff in a GP practice
A 16-week sentence for a patient brought who abused and assaulted a nurse in A&E
In addition, courts have imposed 564 other sanctions such as fixed penalties and anti-social behaviour orders (Asbos).
'Full weight of the law'
Cardiff and Vale University Health Board has won an award for its scheme, which hand-delivers a letter to anyone who abuses or is violent to staff at the University Hospital of Wales.
The letter, sent within seven days of the incident, triggers the first of four stages leading to an anti-social behaviour order.
Ms Griffiths said: "We have seen a huge rise in successful prosecutions, which I hope sends a clear message that we have a zero-tolerance approach in operation.
"I want those who think they can get away with attacks on NHS staff to know they will feel the full weight of the law."
She said the NHS, police and the CPS were close to drawing up a new Memorandum of Understanding (MoU) on how to tackle violence and aggression against NHS staff.
Tina Donnelly, director of the Royal College of Nursing (RCN) in Wales, said the tough approach to violence was welcomed in hospitals.
"The knock-on effect of experiencing violence and aggression at work never really goes away," she said.
"You are left with a psychological fear that if you don't de-escalate something like that in the workplace, you run the risk of it happening to you again.
"This really is a reminder to the public in Wales that there is a zero-tolerance and that health boards will take prosecutions forward - and that is serious."
Posters for the campaign warning "Verbal or physical abuse of our staff will result in prosecution" will go on display in hospitals, GP surgeries, pharmacies, dentists and opticians across Wales.