Police integrity probed over media links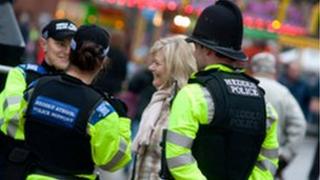 Eight Welsh police officers have been investigated for passing information to the media without permission.
Her Majesty's Inspectorate of Constabulary (HMIC) also found potentially inappropriate behaviour by officers on social media sites.
Its follow-up report looked at how forces responded to an inquiry into relationships with the media.
HMIC found all four Welsh forces have improved the way they manage issues that could compromise their integrity.
But, overall, it says it is concerned changes are not being implemented quickly enough among police forces in England and Wales.
It also found that between September 2011 and last May, Dyfed-Powys Police and North Wales Police investigated four instances each of information being passed to the media without permission.
Gwent and South Wales Police did not investigate any.
'Making progress'
A spokesperson for Dyfed-Powys Police said it expects staff to demonstrate and promote the highest standards of integrity and said the findings recognises the improvements the force has made.
The spokesperson added: "The integrity 'health check' we conducted has led to several policies being reviewed and updated where necessary."
North Wales Police said it has also made changes to its policies.
HMIC also found six cases of potentially inappropriate behaviour on social media sites Facebook or Twitter by Welsh officers, which could range from swearing to posting extreme political opinions.
The cases have been referred back to the forces for further investigation.
Dru Sharpling, HM Inspector of Constabulary for Wales, said: "We found that the police service is making progress in how it monitors and safeguards relationships with the media, contractors and others; but we are concerned that overall, changes have not been implemented at a quicker pace.
"HMIC will therefore continue to monitor and inspect progress in order to provide the public with assurance that all forces are gripping these vital issues."
HMIC looked at 44 forces to assess progress against recommendations made in a 2011 report into police relationships.
Inspectors found in the progress report that although police forces registered gifts and hospitality, there was "little evidence" that chief constables were questioned about items they received.