Wales school banding is a failure, teaching unions claim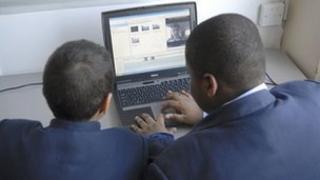 Teaching unions claim the school banding system is a "failure" based on "arbitrary and misleading" figures.
The Welsh government puts secondary schools into five bands based on factors such as GCSE performance.
Education Minister Leighton Andrews says the results will challenge those "not delivering for our young people".
The Conservatives called the bands "vague and confusing", Plaid Cymru said they were "not credible" and the Welsh Liberal Democrats called them "crude".
Ysgol Tryfan in Bangor, Gwynedd, had the best relative score in Band 1 last year but has now dropped to Band 4.
Head teacher Gwyn Tudur said he "questions a system which allows such a big change".
NUT Cymru secretary David Evans said the union had warned the system would prove "divisive for schools in our communities, give a misleading picture of performance to parents and fail to help to target and provide support".
"We take no pride in being right on this issue, but those fears have been proved correct," he said.
There had been a rush to banding which resulted in undermining the hard work of teachers, pupils and parents but "very little actual support", he added.
"We know this system has failed students and teachers in Wales over the past 12 months.
"Unless the Welsh government recognises the mistakes they have made with banding, we will continue to see it failing the education system."
An UCAC spokesperson said schools given money to raise standards were still in the same place or dropped a band this year, and claimed some changes seemed arbitrary.
"We have argued from the very beginning that it doesn't make sense to distil complex sets of data into a single, raw figure.
"The banding system does little other than to turn sensible, valuable data into arbitrary and misleading figures.
"We call on the Welsh government to reconsider the banding system in its entirety, and to call a halt to its plans for introducing banding for primary schools."
'Flawed system'
Angela Burns AM, the Conservatives' shadow minister for education, said: "It is a year since Labour's school banding policy was introduced, yet it remains vague, confusing and unhelpful."
She said the latest data shows little progress.
"It suggests the one-size-fits-all £10,000 payment to lowly ranked schools was insufficient, poorly targeted or even unnecessary.
"The education minister did the right thing by taking his primary school banding plans back to the drawing board and should seriously consider doing the same with this flawed system of grading secondary schools."
Welsh Liberal Democrat education spokesman Aled Roberts said: "Too often we are hearing of how parents are confused why their children's school has been rebranded despite the fact its results have stayed the same.
"The Welsh government must be doing more to ensure that there is a better understanding of what banding actually means.
"I have sympathies with the minister's wishes for this not to be a case of naming or shaming schools, but I'm not convinced that won't be the case."
For Plaid Cymru, Simon Thomas AM said: "These latest figures show that banding generally has not meant a dramatic improvement in standards.
"The system is not credible when in a year a school can go from Band 1 to 4.
"In light of these figures the minister should scrap his plans for banding primary schools."
Education Minister Leighton Andrews said the "robust data" gives the government and parents a "clear picture" of how schools are performing and provides information needed to challenge schools to improve.
"I have made a clear commitment to raising standards and performance in schools in Wales, improving levels of literacy and numeracy and reducing the impact of poverty on educational attainment," he said.
"Banding is at the heart of our school improvement agenda in Wales and we're committed to releasing this performance data year on year."
Local councils which saw an improvement in rankings for their schools welcomed the latest banding information.
In Neath Port Talbot the majority of secondary schools - six out of 11 - were placed in Band 1 with none in bands 4 or 5.
"It reflects the outstanding leadership and dedication of staff within our schools and our school improvement service," said council leader Ali Thomas.
All of Denbighshire's secondary schools have seen their bandings improved or maintained.
Eryl Williams, cabinet lead member with responsibility for education, said: "We believe that these bandings are a reflection of the tremendous amount of effort going on to raise standards in our secondary schools."